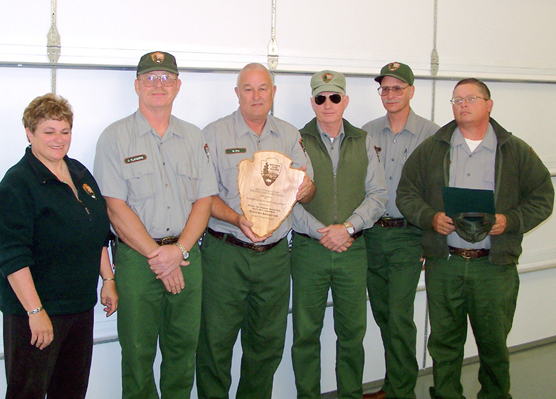 News Release Date:
June 15, 2008
Contact: Carla Beasley, (435) 781-7700
Deputy Regional Director Tony Schetzsle presented the Green River Maintenance Crew the Intermountain Region's team award for safety at a meeting on June 9. The five members of the Green River Maintenance Crew have contributed approximately 84 years of service to Dinosaur National Monument without a single lost-time injury or accident.
Bill Dye serves as the district maintenance foreman and has worked in the Monument for 16 years. He is joined by Dall Flanders, who just retired as the park's electrician after 20 years; Randy Clark, a motor vehicle operator for 18 years; Merlin Mott, a maintenance worker for 17 years; and Angell Britt, the engineering equipment operator for 13 years.
"This crew has made safety a priority while performing their duties at Dinosaur National Monument. They have contributed both individually and collectively toward this outstanding safety record," stated Schetzsle. "In particular, this crew should be recognized for their outstanding efforts to safely maintaining the now-condemned Quarry Visitor Center. They have addressed a myriad of problems – all the while putting public and employee safety first."
Over the years, the maintenance crew identified safety concerns for both visitors and employees and found ways to address those concerns even though the building's structural shifts resulted in significant alterations of the interior and diminished our capacity to have functional administrative or visitor spaces. It's a magnificent building that was literally built on a foundation of sand, and the crew did an outstanding job of "duct-taping" the building together. Despite all of these problems, the crew kept the building open to the public and provided for public and employee safety until the emergency closure of the building.
During a recent site visit, the Regional Safety Officer noted the exceedingly well kept, organized, and clean maintenance facilities in the Green River District. This work group truly lives by the slogan that "Safety is planned for. A record such as this is NO ACCIDENT."
--NPS--