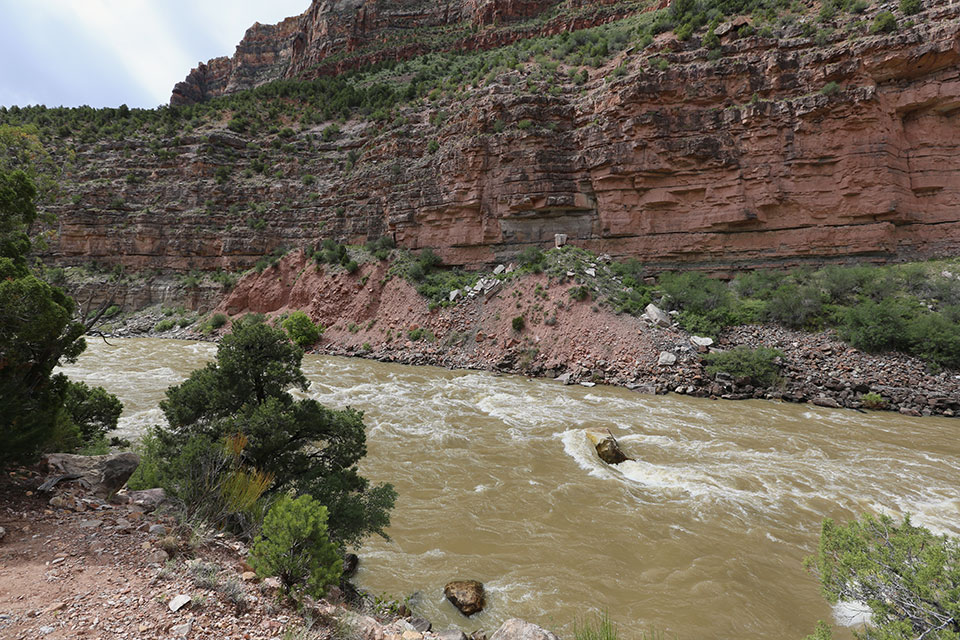 News Release Date:
July 16, 2017
Contact: Sonya Popelka, (435) 781-7701
Updated with release of victim's name.
Dinosaur, Colorado – On Saturday, July 15, a man died while on a two-person private trip using inflatable kayaks on the Yampa River in Dinosaur National Monument. The kayaker has been identified as Michael Brinks, 66, from Craig, Colorado.
At approximately 2:00 pm on Saturday, Brinks hit a rock in Tepee Rapid, capsized, and never resurfaced. He was reported to have been wearing a personal flotation device. The reporting party kayaked 24 miles downstream to Hells Canyon Ranch to report the incident. Monument staff were contacted just before 9:00 pm on Saturday evening. Search and rescue efforts were launched Sunday morning.
Due to the remote location of the incident, and low water levels along the Yampa River, monument staff used a helicopter to aid in the response. A contracted helicopter from PJ Helicopters of Red Bluff, CA and the Mesa Verde National Park Helitack Crew were already on-site in the monument for a wildland fire assignment.
At 11:40 am on Sunday morning, the kayaker's body was located approximately 3 miles downstream from the point last seen. The body was recovered from the river and transported to the Moffat County Coroner. The Moffat County Sheriff's Department is a partner in the investigation.
Additional background information:
Tepee Rapid is a class II+ rapid located on the Yampa River in the Colorado portion (Moffat County) of Dinosaur National Monument. It is approximately 10 river miles downstream of the Deerlodge Park boat launch near the monument's eastern boundary. Flow rates for the Yampa River, influenced by natural, seasonal fluctuations, are currently averaging 680 cubic feet per second. At this water level, navigating the river in larger rafts is difficult. Using small water craft, including inflatable kayaks, is preferred.
Dinosaur National Monument consists of over 210, 000 acres in both Colorado and Utah. While the monument is best known for the dinosaur quarry and the fossils preserved there, the monument also contains spectacular canyons along the Green and Yampa rivers. These rivers are famous among whitewater rafters who travel here from across the globe to raft them.