Rangers Discover Damage and Theft of Fossil Fragments along Fossil Discovery Trail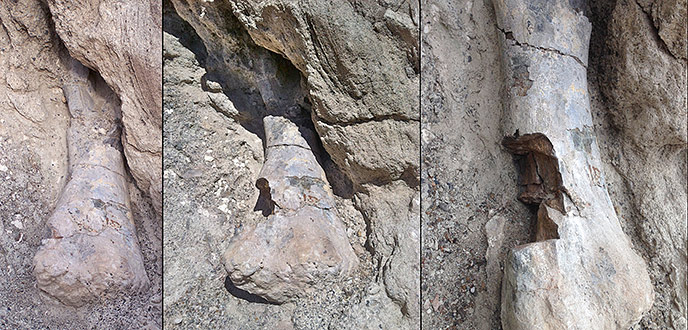 News Release Date:
September 5, 2014
Contact: Dan Johnson, Chief of Interpretation and Visitor Services, (435) 781-7702
Contact: Lee Buschkowsky, Chief Ranger, (435) 781-7715
Dinosaur, CO and Jensen, UT–Rangers are seeking information related to recent fossil damage and theft on the Fossil Discovery Trail. On Tuesday, September 2, 2014, a park ranger leading a guided walk discovered damage to a fossilized humerus bone from a sauropod dinosaur located along the trail. The damage was not evident the previous day.
Rangers are requesting that anyone with information on the fossil damage to contact the monument at (435) 781-7715. A $750 reward which has been funded by the Intermountain Natural History Association will be provided for information that leads to a conviction.
The Fossil Discovery Trail is a1.2 mile trail that runs between the Quarry Visitor Center and the Quarry Exhibit Hall where the famous wall of dinosaur bones is located. The trail is unique as it is one of the few places where visitors can hike to see and touch unexcavated dinosaur fossils and fragments in situ; or still in place. It allows visitors to experience what it may have been like for paleontologist Earl Douglass when he discovered the first fossils in what is now the monument. While the fossils have limited scientific value, they have a great value for the educational experience they provide to visitors and students who hike the trail.
Visitors are reminded that all fossils, rocks, plants, animals and cultural artifacts located within Dinosaur National Monument are protected and may not be collected.
For more information on Dinosaur National Monument, call us at (435) 781-7700, or follow DinosaurNPS on facebook, twitter, and flickr.
Last updated: February 24, 2015