Date:
April 23, 2009
Contact:
Carla Beasley, 435-781-7700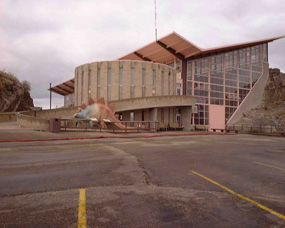 Secretary of the Interior Ken Salazar announced today a $13.1 million investment to demolish and replace condemned portions of the Quarry Visitor Center at Dinosaur National Monument. The Quarry Visitor Center project is one of nearly 800 projects totaling $750 million that can be completed across the country with funding from the American Recovery and Reinvestment Act of 2009 (ARRA). All the projects announced today are long-standing priorities of the National Park Service based upon its capital planning process.
Preliminary work for the Quarry Visitor Center has already begun. The National Park Service completed the environmental impact statement for the project in 2008 and finished design development this month. Work has begun on the construction drawings with the final documents anticipated by fall of this year. The National Park Service will award the construction contract in early 2010, and ground-breaking may be as early as next spring. Construction is anticipated to take between a year and a year and a half; the reopening the quarry exhibit and visitor center could be as early as summer 2011.
"Every aspect of the monument's operations has been impacted by the closure of the Quarry Visitor Center," stated Dinosaur National Monument superintendent Mary Risser. "This project will implement sustainable green technologies and improve the visitor experience at Dinosaur National Monument. We will once again be able to provide public access to Douglass Quarry and its world renowned Juraissic-era dinosaur fossils."
Dinosaur National Monument will also receive an additional $628,000 in ARRA funding to complete several other high priority deferred maintenance projects. The waterline from the park boundary to the Quarry area and a waterline in the Headquarters area will be replaced. Frontcountry and backcountry trails will be repaired. The Gates of Lodore Boat Ramp will be rehabilitated. New energy efficient windows will be installed in the Headquarters building.
"We are grateful that this recovery effort will enable us to accomplish so many long standing projects, which will enhance our ability to serve the public," continued Risser. "Since these projects will be contracted out, we anticipate that they will help put money into the local and regional economies."
--NPS--