Date:
May 8, 2008
Contact:
Carla Beasley, 435-781-7700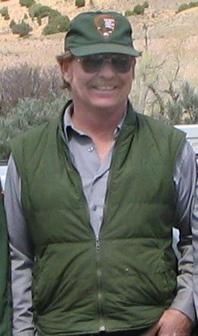 Dall Flanders, electrician at Dinosaur National Monument, is retiring after 36 years of service for the Federal government. He served four years with the U.S. Navy, four years at Glen Canyon National Recreation Area, and 28 years at Dinosaur National Monument.
"Dall moved to Dinosaur National Monument on June 29, 1980, and since that time, he has played a role in almost all of the maintenance projects that have gone on in the Monument," stated Superintendent Mary Risser. "Dall has brought the Monument into the 21st century through his interest in solar power. He's served as a mentor to many members of the maintenance crew, and I have benefited greatly from his institutional memory."
As Dinosaur's sole electrician, Dall covered the Monument's entire electrical systems and needs from the Quarry to Lodore. He maintained electrical, photovoltaic, telephone, alarm, computer wiring, and fuel systems. As a skilled carpenter, Dall also enjoyed upgrading the residential buildings. He accomplished all of this without a single lost-time accident.
"From the Quarry Visitor Center, which was the Park's principal draw for the visiting public, to the most remote fire tower in the Monument, Dall has had a hand in developing and maintaining Dinosaur's infrastructure for over 30 years," state Facility Manager Gary Mott. "Finding someone to 'fill his work boots' and carry on that level of stewardship will be no easy task."
Dall and his wife Rita plan to remain in the Vernal area where he will begin crossing off the items on the "honey-do" list.
--NPS--