Birds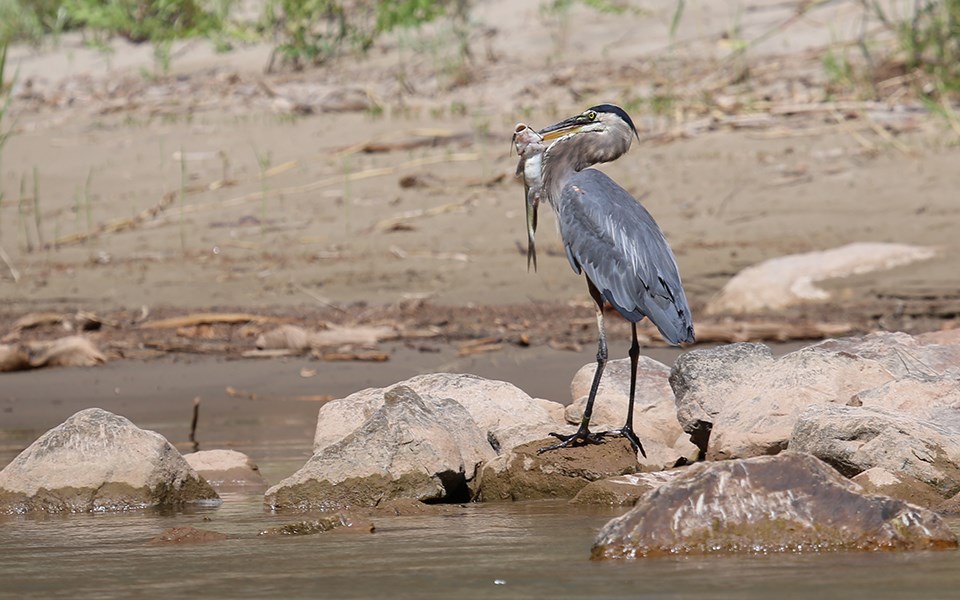 With its varied topography, Dinosaur National Monument includes a number of different habitats: riparian (along waterways), sagebrush, pinyon-juniper woodland, grassland, montane forest, and more. These diverse areas are home to more than 200 bird species, some year-round residents, others part-time residents at Dinosaur.
Dinosaur's rivers are used by, among others, bald eagles, Canada geese, and great blue herons. High above the rivers, canyon walls are home to turkey vultures, peregrine falcons, and a number of hawk species. Nearly a third of all the bird species in the monument have been detected in the pinyon-juniper woodlands, which cover nearly half the monument.
You can download a complete list of Dinosaur's bird species from NPSecies below.
Select a Park:
Select a Species Category (optional):
Search results will be displayed here.

Visit NPSpecies for more comprehensive information and advanced search capability. Have a suggestion or comment on this list? Let us know.
Learn more about a few of Dinosaur National Monument's birds below.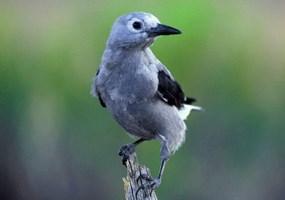 Clark's nutcrackers (Nucifraga columbiana) feed primarily on pine seeds. To ensure a supply of food for winter, these birds stockpile seeds in underground caches. A pouch under the tongue allows them carry more than 100 seeds at a time to the cache site.
---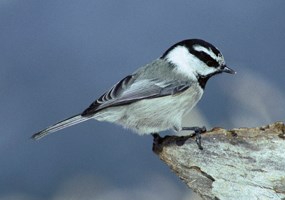 Mountain chickadees
(Poecile gambeli)
live year-round in Montane forest. These small songbirds eat insects and use tree cavities for nesting.
---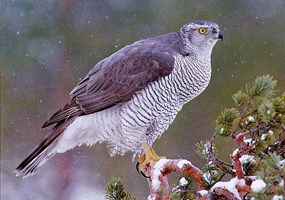 Northern goshawks (Accipiter gentilis) hunt small birds and mammals. These large hawks will aggressively defend their nests from predators (and from humans!).
---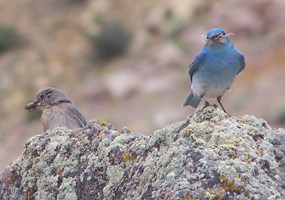 Male mountain bluebirds (Sialia currucoides) are a vivid blue, making them easy to identify. Despite their more subdued coloring, patches of blue can also be seen on the females. These birds eat insects and nest in tree cavities.
---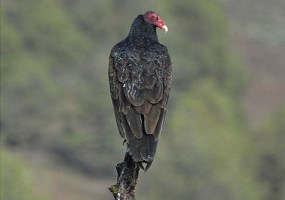 Turkey vultures (Cathartes aura) are often seen soaring in the sky, searching for carrion (dead animals). Although from a distance turkey vultures may appear all black, their featherless red heads are one of their most distinctive features. Turkey vultures use their keen sense of smell to locate food. Because turkey vultures lack a syrinx, the avian vocal organ, their vocalizations are limited to grunting and hissing.
---
Greater sage grouse (Centrocercus urophasianus), the largest grouse in North America, require sagebrush and sage steppe for survival. They eat forbs and insects in spring and summer and rely mainly on sagebrush buds in winter.
---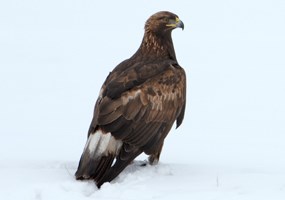 Golden eagles (Aquila chrysaetos) are large raptors that often hunt rabbits, jackrabbits, and prairie dogs. They nest in remote, secluded cliffs.
---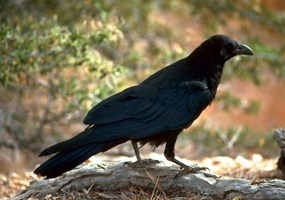 Common ravens (Corvus corax) are large, black birds frequently seen at both at Dinosaur National Monument and across the West. Ravens, part of the corvid or crow family, are among the most intelligent birds.
---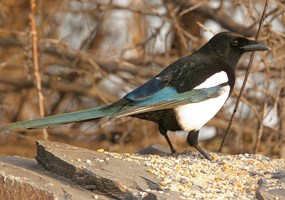 With their long tails and distinctive coloring, black-billed magpies (Pica hudsonia) are easy to identify. They make large stick nests in trees.
---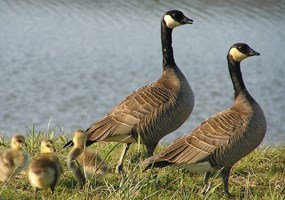 Canada geese
(
Branta canadensis
) are common along the river. These large waterbirds nest along the river, sometimes on low ledges above the river.
---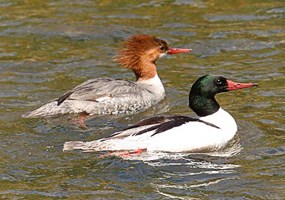 Common mergansers (Mergus merganser), recognizable by their scarlet-orange bills, are often seen along the river. These diving ducks eat mostly fish, but will also feed on small aquatic animals and insects.
---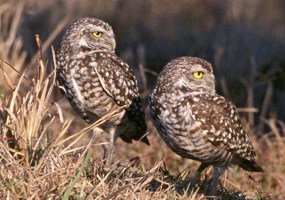 Burrowing owls (Athene cunicularia) nest underground and feed mostly on insects and small mammals. These small owls can dig their own burrows, but will often use burrows created by prairie dogs or other animals. The males often stand watch on a mound near the nest burrow.
---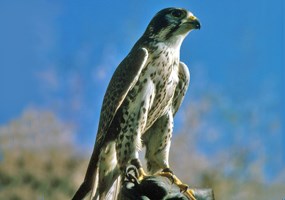 Peregrine falcons (Falco peregrinus) are a medium-sized bird of prey, roughly the size of a crow. Although males and females are identical in appearance, the female can be a third larger than the male. These previously-endangered birds nest on high, remote cliff ledges in Dinosaur's canyon country.
Last updated: December 21, 2017