Compendium of Regulations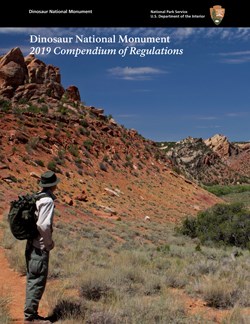 (Adobe Accessible PDF 4.4 MB) The Compendium of Regulations addresses park-specific issues using Federal authority granted to the superintendent in Title 36 Code of Federal Regulations (CFR), Parts 1 through 7. The CFR is a codification of the general and permanent rules published in the Federal Register by the Executive departments and agencies of the Federal Government. The CFR is available electronically through the E-CFR link. Under 36 CFR 1.7(b), "the superintendent shall compile in writing all the designations, closures, permit requirements and other restrictions imposed under discretionary authority. This compilation shall be updated annually and made available to the public upon request."
The use of unmanned aerial devices, also known as drones, is prohibited within the boundaries of Dinosaur National Monument.
Last updated: September 30, 2019