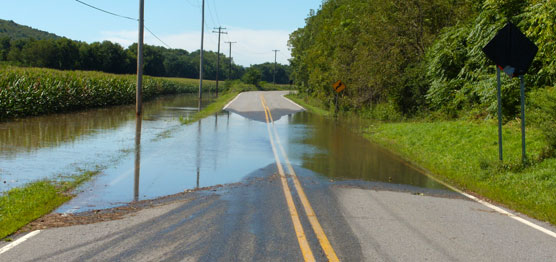 News Release Date:
September 8, 2011
Contact: Deb Nordeen
Superintendent John J. Donahue announced several weather-related road closures within the Delaware Water Gap National Recreation Area. Heavy rain, runoff, and flooding have caused hazardous driving conditions on a number of park roads. Motorists are strongly advised to heed the barricades and closures.
Pennsylvania
At 6:00 p.m., U.S. Route 209 will be closed from Bushkill Falls Road to PA Route 739. Standing water in low-lying sections of the road has caused hazardous driving conditions. Local

f

eeder roads between SR 2001 and Route 209 will also be closed. Route 209 will remain closed until the water recedes to a safe level.

River Road is closed from Shawnee-on-Delaware to Park Headquarters near Fernwood Resort.
New Jersey
Old Mine Road is closed from Worthington State Forest to Millbrook Village. In addition, the road is closed from Route 560, north of the Dingmans Ferry Bridge, to U.S. Route 206.

NPS Route 615 is closed from Walpack Center to Flatbrookville.
Delaware River
The Delaware River and all river access points from Milford to Delaware Water Gap remain closed to all recreational activities until the river recedes to a safe level.
Many park roads and areas still remain closed following Hurricane Irene. For updated information on the status of park facilities, roads, and trails, call park headquarters at 570-426-2452 (weekdays). Updated information is also available on the park's website, and the park's Facebook and Twitter pages.