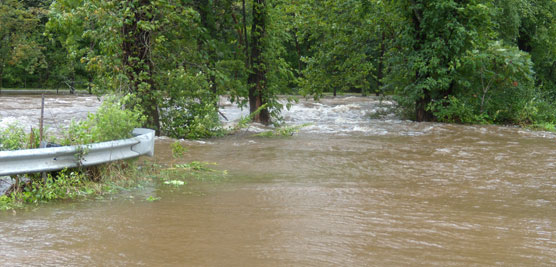 News Release Date:
August 28, 2011
Contact: Deb Nordeen
U.S. Route 209 is now closed through Delaware Water Gap National Recreation Area from the park's south contact station (located just north of Fernwood Resort) all the way to the intersection of Route 209 and Route 206 near Milford. The road will remain closed until further notice.
The strong winds and heavy rains from Hurricane Irene have brought down numerous trees along the road and caused flooding at Bushkill Creek. Additional flooding is expected along Route 209 as the Delaware River rises toward flood stage. Many local roads that connect to Route 209, River Road, and other park roads are also closed. Motorists are strongly advised to heed all barricades and closures.
All previous road, river, trail, and site closures that were announced earlier also remain in effect until further notice.
National Weather Service forecasters are currently predicting that the Delaware River will reach flood stage at the Montague, New Jersey gauge by Monday afternoon. Flood stage at that gauge is 25 feet; the current reading is 8.51 feet. In the south end of the park, the Tocks Island gauge currently reads 8.44 feet and is expected to rise to just over 24 feet by Monday afternoon. Flood stage is 21 feet and moderate flooding is expected in that area. The National Weather Service has issued a flood warning for the region. Travelers are warned not to attempt to drive through flooded areas; water may be deeper that it appears.
Visitors and local residents are advised to monitor the weather forecasts for updated information on the hurricane's track. We encourage everyone to visit www.ready.gov or www.listo.gov for tips on creating emergency plans and putting together an emergency supply kit. The park has set up a message line for updates on facility, road and other closures. The number is 570-426-2492. Updated information will also be posted on the park's website, www.nps.gov/dewa, on www.facebook.com/DelWaterGapNPS, and www.twitter.com/DelWaterGapNPS.