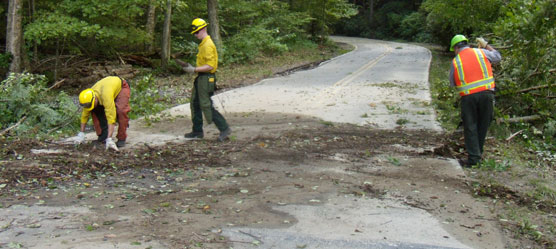 News Release Date:
August 30, 2011
Contact: Deb Nordeen
Superintendent John Donahue announced today that Hurricane Irene left widespread damage throughout Delaware Water Gap National Recreation Area. Strong winds downed trees and power lines making roads and trails impassable in both the Pennsylvania and New Jersey portions of the park. Fast moving streams overtopped roads, undermined road surfaces and shoulders, inundated trail bridges, and flooded park buildings. The Delaware River crested yesterday, causing minor flooding and washing over low-lying sections of U.S. Route 209. The majority of park buildings and residences are without electrical power.
Park staff are performing initial damage assessment and clean up operations throughout the 70,000 acre park. Sawyers from the park and from the Upper Delaware Scenic and Recreational River are hard at work removing downed vegetation blocking primary roads and trails. Two four-person trail crews are en-route from Acadia National Park and Shenandoah National Park to help with the cleanup effort. Additional National Park Service personnel have been assigned to prepare a comprehensive, accurate assessment of damage to all park roads, facilities, and archeological, natural, and cultural resources.
Closures remain in effect throughout Delaware Water Gap National Recreation Area while damage assessments and cleanup operations get underway. Extensive closures to park roads and facilities, are expected to continue through the Labor Day weekend, therefore visitors should plan accordingly. Swim beaches and other visitor facilities are not likely to be open this weekend. Reopening is hampered by the need to have power lines removed from park roads. Restoration of electrical power is not expected until midnight on Friday, making repairs difficult at best.
The current status of Delaware River access, roads, trails, and visitor use areas follows.
Delaware River/ Canoe and Boat Access Ramps
The Delaware River and all river access points from Milford to Delaware Water Gap remain closed to all recreational activities until the river recedes to a safe level. The Delaware River gauge at Montague, New Jersey currently reads 14 feet, down from a crest of 21.94 feet yesterday morning, several feet below flood stage of 25 feet. In the south end of the park, the Tocks Island gauge is at 15 feet; it crested yesterday afternoon at 23.21 feet, two feet above flood stage. National Weather Service forecasters predict a steady decline in river height over the next several days.
Roads
Road closures continue in the park as crews remove trees and debris and assess damage to road surfaces, shoulders and bridges.
Pennsylvania
U.S. Route 209 - Reopening Route 209 between Bushkill and Milford is a high priority. Although floodwaters have receded, downed power lines have to be cleared and damaged road shoulders repaired before the road can be completely opened to through traffic.

The section of Route 209 from the park's south contact station (located just north of Fernwood Resort) to Bushkill Falls Road is open. However, Route 209 remains closed between Bushkill Falls Road and Route 206 near Milford. State Route 2001 (Milford Road), which parallels Route 209, is open, so travelers heading north from Bushkill or south from Milford should take that route. All feeder roads between SR 2001 and Route 209 remain closed. The privately-owned toll bridge at Dingmans Ferry, located within the park boundaries, is closed by the owner.

River Road - River Road remains closed from park headquarters near Fernwood Resort to a point about a half mile north of Shawnee.
New Jersey
Old Mine Road - is closed from Worthington State Forest to Millbrook Village. The unpaved segment of Old Mine Road near the Van Campen Inn is also closed. In addition, Old Mine Road is closed north of the Dingmans Ferry Bridge to U.S Route 206.

NPS Route 615 - the road is closed between Flatbrookville and Peters Valley.
Visitor Centers
Dingmans Falls Visitor Center (Pennsylvania) will remain closed until downed trees are removed and the visitor center and waterfall trail have been assessed for damage.

Kittatinny Point Visitor Center (New Jersey) and the surrounding grounds and picnic area are closed. The visitor center may reopen by the weekend.
Millbrook Village is closed. Flooding from Van Campens Brook caused extensive damage in the village.
Camping Areas
Dingmans Campground off Route 209 in Dingmans Ferry, Pennsylvania is closed.

The park's two group campsites - Valley View (Pennsylvania) and Rivers Bend (New Jersey) are closed.
Recreation Areas
The swim beaches at Milford Beach, Smithfield Beach, and Turtle Beach are closed for the season; they will not be open for the holiday weekend.

Watergate Recreation Site and Upper and Lower Van Campens Glen (New Jersey) are also closed.

Hialeah Picnic Area and Hidden Lake Picnic Area (Pennsylvania) are closed due to downed trees and debris.

George W. Childs Recreation Site (Pennsylvania) remains closed for rehabilitation.
Trails
All park trails that are accessible from closed roads roads, including U.S. Route 209, River Road, Old Mine Road, NPS 615, and other secondary roads are closed. This includes the 32-mile McDade Trail.
For updated information on the status of park facilities, roads, and trails, call park headquarters on weekdays (570-426-2452). Updated information is also available on the park's website, www.nps.gov/dewa, on www.facebook.com/DelWaterGapNPS, and www.twitter.com/DelWaterGapNPS.