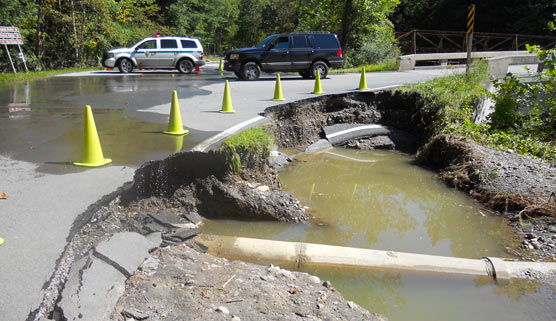 News Release Date:
August 31, 2011
Contact: Deb Nordeen
Three days after Hurricane Irene struck the northeast, damage assessment and clean up operations continue at Delaware Water Gap National Recreation Area. The work consists of hazardous tree and debris removal, culvert clearing, temporary repair of road damage, maintaining road closures, and ensuring public safety. Assessment teams are conducting site visits throughout the 70,000 acre park to determine the extent of damage and repair needs. Electric power was restored to the park's Bushkill headquarters and maintenance complex last evening. Power has yet to be restored to park facilities between Bushkill and Milford on the Pennsylvania side of the river and at most park facilities in New Jersey.
Although National Park Service employees from Delaware Water Gap National Recreation Area and other offices and parks in the National Park System are working hard to clear storm debris, make necessary repairs, and clean up facilities, much of the park will remain closed through the Labor Day weekend.
The current status of Delaware River access, roads, trails, and visitor use areas follows.
Delaware River/Canoe and Boat Access Ramps
The Delaware River and all river access points from Milford to Delaware Water Gap will remain closed through Monday, September 5. An assessment of river campsites has just begun.
Roads
Road closures continue in the park as crews remove trees and debris and assess damage to road surfaces, shoulders and bridges.
Pennsylvania
U.S. Route 209 - the entire length of Route 209 through Delaware Water Gap National Recreation Area - from Milford to Bushkill - will reopen on Thursday, 9/1 at 12:00pm.Local, township-maintained feeder roads between SR 2001 and Route 209 will reopen along with Route 209.

PA 739, between Route 209 and the Dingmans Ferry toll-bridge, will remain closed until hazard trees and downed power lines can be cleared. In New Jersey, Route 560 is still closed. Consequently, the privately-owned toll bridge at Dingmans Ferry, located within the park boundaries, remains closed by the owner.
River Road - River Road, from a point one-half mile north of Shawnee to park headquarters, will remain closed through Labor Day - Monday, September 5. Recreation sites and picnic areas located on River Road, including Hialeah Picnic Area and Smithfield Beach will not be open.
New Jersey
Old Mine Road- Old Mine Road north of the Dingmans Ferry Bridge to U.S. Route 206 is open. The southern section is closed from Worthington State Forest to Millbrook Village. The unpaved segment of Old Mine Road near the Van Campen Inn is also closed.

NPS Route 615- the road is open from Peters Valley to the Walpack Inn. The road remains closed from the inn south to Flatbrookville. Major damage to the roadbed has occurred along the Flatbrook.
Visitor Centers
Dingmans Falls Visitor Center(Pennsylvania) will remain closed through the weekend. The waterfall trail has sustained damage that must be repaired before it is safe for the public. In addition, downed power lines and trees must be removed from the access road.

Kittatinny Point Visitor Center(New Jersey) and the surrounding grounds and picnic area will also be closed for the weekend.
Millbrook Village is closed. Flooding from Van Campens Brook caused extensive damage throughout the village.
Camping Areas
Dingmans Campground off Route 209 in Dingmans Ferry, Pennsylvania is closed.

The park's two group campsites - Valley View (Pennsylvania) and Rivers Bend (New Jersey) are closed.
Recreation Areas
The swim beaches at Milford Beach, Smithfield Beach, and Turtle Beach are closed for the season.;

Watergate Recreation Site and Upper and Lower Van Campens Glen (New Jersey) are also closed.

Hialeah Picnic Area and Hidden Lake Picnic Area (Pennsylvania) are closed due to downed trees and debris.
George W. Childs Recreation Site (Pennsylvania) remains closed for rehabilitation.
Trails
All park trails that are closed.
For updated information on the status of park facilities, roads, and trails, call park headquarters on weekdays (570-426-2452). Updated information is also available on the park's website, www.nps.gov/dewa, on www.facebook.com/DelWaterGapNPS, and www.twitter.com/DelWaterGapNPS.