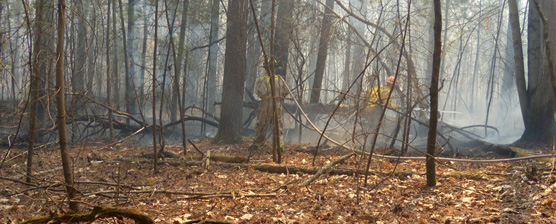 News Release Date:
April 9, 2012
Contact: Carla Beasley, (570) 426-2452
Strong winds caused a tree to fall on power lines, resulting in a small fire in the Delaware Water Gap National Recreation Area.
The Creek Fire was discovered about 11:00 a.m., Monday, April 9 by New Jersey Forest Fire Service's Catfish Fire Tower, located on Kittatinny Ridge. It was named for its proximity to Creek Road.
The fire is about two acres in size, and burning in a wooded area between Creek Road and Bushkill Creek. Visitors can expect to see smoke this afternoon along U.S. 209 in Bushkill, but the fire is not expected to grow.
Firefighters are managing the incident by keeping the fire confined with hoses and tools to a specified area between Bushkill Creek and Creek Road. Creek Road is currently closed, and the fire poses no threat to visitors.
The Delaware Water Gap Recreation Area Wildland Fire Crew is being assisted by the Bushkill, Dingmans Township, and Marshalls Creek Volunteer Fire Departments. Creek Road will remain closed until crews have controlled the fire.