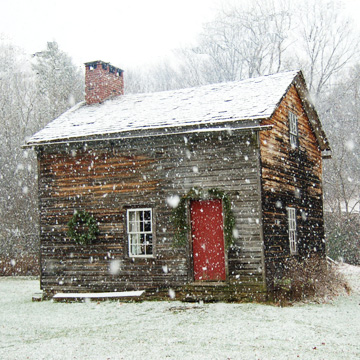 News Release Date:
November 21, 2013
Contact: Kathleen Sandt, (570) 426-2429
BUSHKILL, PA: Superintendent John J. Donahue announced today that the National Park Service and the Millbrook Village Society will offer two events to celebrate the holiday season at Millbrook Village in Delaware Water Gap National Recreation Area. Both events are free and open to the public.
On Saturday, December 7, from 11 a.m. to 4 p.m., park rangers and volunteers will present a Victorian Christmas Celebration. Village buildings will be decked out for the holidays and open for tours and demonstrations. Visitors can watch as holiday meals are prepared over an open fire or woodstove and enjoy the many children's activities hosted in the Van Campen farmhouse, including hands-on period toys, games and crafts. Light refreshments will be available.
On Sunday, December 8 at 5 p.m., the annual Christmas Carol Service will be held in the Millbrook church. All are welcome to attend this traditional hour-long carol program. Light refreshments will be available following the service.
Millbrook Village is located on Old Mine Road in New Jersey, 12 miles north of Interstate 80 (Exit 1). Access is also available by taking NJ Route 602 (Millbrook-Blairstown Road) seven miles west from its intersection with Route 94 in Blairstown or from the north using Old Mine Road. 
For more information, call park headquarters at 570 426-2452, Monday through Friday between the hours of 8 a.m. and 4:30 p.m. or visit the park's website at www.nps.gov/dewa.