NEWS: News Releases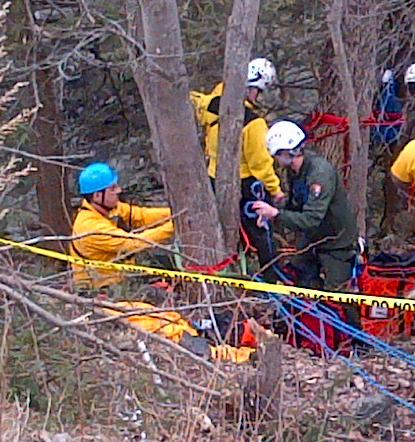 News Release Date:
March 12, 2013
Contact: Kathleen Sandt, 570 426-2429
BUSHKILL, PA:Superintendent John J. Donahue is proud to announce that Delaware Water Gap National Recreation Area's High Angle Rescue (HAR) Team has recently been accredited by the Mountain Rescue Association (MRA). In doing so, the Water Gap team joins the ranks of 13 other national park units that have already received MRA accreditation including Denali, Yosemite, Grand Canyon, Grand Teton, and Mount Rainier National Parks. Delaware Water Gap NRA is the first and only national park unit to be recognized by the MRA in their Appalachian Region which extends along the eastern seaboard from Maine to Georgia and west to Ohio, Kentucky and Tennessee.  
The Mountain Rescue Association was established in 1959 as a non-profit professional association of mountain rescue units and has over 100 member teams in the United States and Canada. It is the oldest search and rescue association in the United States and is dedicated to saving lives through mountain safety education. MRA also provides critical training programs in technical rescue operations, annual seminars, and a system for accrediting teams that meet the organizations stringent requirements for rescue capabilities. Delaware Water Gap National Recreation Area will co-host the annual MRA conference in 2014.
Delaware Water Gap's search and rescue program includes a specialized HAR Team which is comprised of over 40 highly skilled members who are able to perform technical rescue operations in the most difficult terrain, including steep ravines and cliffs. The park's HAR Team works closely with partner organizations including New Jersey Department of Environmental Protection, Division of State Parks and Forestry and other nearby national park units and includes professionals from several other area agencies. "We are extremely proud of the hard work and dedication put forth by the members of our HAR team," said Superintendent Donahue of his staff. "They are a highly skilled and well trained group of professional rescuers who provide assistance to numerous park visitors who get injured or find themselves in situations that they can't get themselves out of each year." The team also provides technical assistance and expertise to the surrounding community. On Monday, the park's HAR team assisted Pennsylvania State Police, Blooming Grove, with the recovery of a body of a woman from the base of Shohola Falls, just outside the park.
Last updated: April 14, 2015