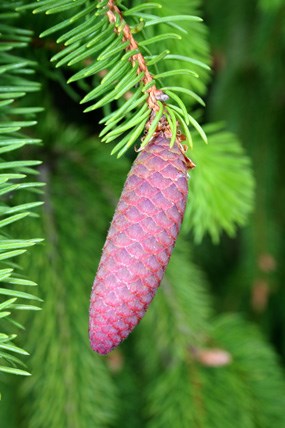 A visitor to Delaware Water Gap National Recreation Area is bound to see both coniferous and deciduous trees. The dominant coniferous (cone-bearing) tree species is the Eastern hemlock which is Pennsylvania's state tree. The Eastern hemlock is an important component of the forest canopy of 141 forest stands covering approximately 2,800 acres (about 5%) of the recreation area. The species thrives in damp, cool, shady microclimates and has shallow roots vulnerable to ground fires, erosion, drought, heavy snows, high winds, and human encroachment. The species faces a number of stresses, including an an insect from Asia, the hemlock woolly adelgid.
Among the commonly found deciduous (leaf-shedding) trees found in the area include white oak, red maple, and shagbark hickory. There are also some forest communities of river birch found along creeks, lakes, and the Delaware River whose stands help to minimize erosion along the banks of waterways.
Common shrubs in the recreation area include mountain laurel, Pennsylvania's state flower, which blooms in June. By July, the rhododendrons bloom, providing a flowery tunnel through the forest. Dingmans Falls trail is an excellent place to view the rhododendron, as they thrive in the acidic soil of hemlock ravines.