KIDS: Junior Ranger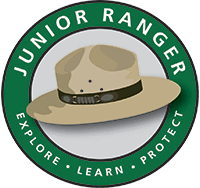 "Explore, Learn, and Protect!" The Junior Ranger motto is recited by children around the country; each taking an oath of their own to protect parks, continue to learn about parks, and share their own ranger story with friends and family. Many national parks offer young visitors the opportunity to join the National Park Service "family" as Junior Rangers. Interested youth complete a series of activities, share their answers with a park ranger (or mail their booklet to the park), and receive an official Junior Ranger badge and Junior Ranger certificate. Junior Rangers are typically between the ages of 5 to 13, although people of all ages can participate.
If you would like a copy of the Junior Ranger River Safety booklet mailed to you send us an
email
and you can begin your water safety fun!


Last updated: April 23, 2021