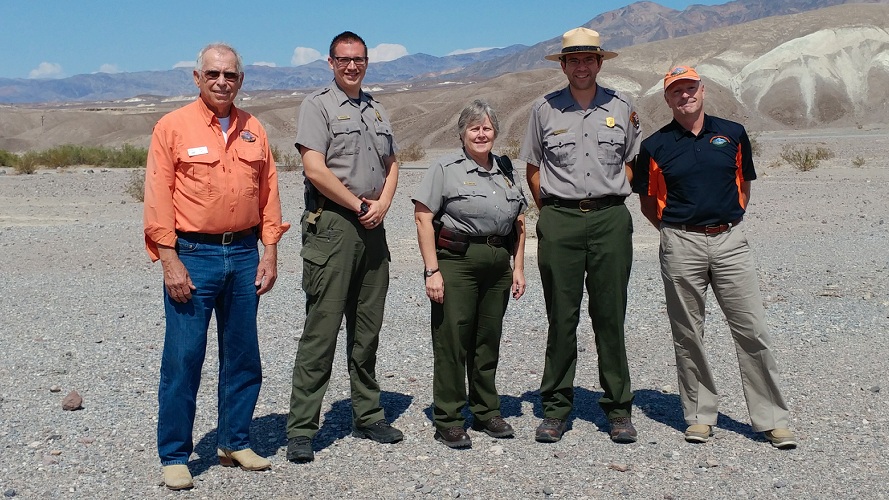 News Release Date:
September 30, 2017
Contact: Abby Wines, NPS, 760-786-3221
Contact: Carmine Mowbray, RAF, 406-883-4677
DEATH VALLEY, CA –The Recreational Aviation Foundation (RAF) and the National Park Service (NPS) recently renewed their agreement addressing maintenance on the three airstrips in Death Valley National Park. Volunteers will perform maintenance on public airstrips at Furnace Creek, Stovepipe Wells, and Saline Valley.
"The RAF and the NPS have been successfully partnering for nearly ten years to make access to these areas safe and available to the aviation community," RAF board chairman John McKenna said.
Death Valley National Park's superintendent, Mike Reynolds, said, "We really appreciate the hard work and equipment that RAF's volunteers contribute to help maintain the airstrips in Death Valley. We couldn't do this without them."
The original memorandum of understanding was signed in 2008 and approves RAF volunteers performing regular maintenance on the Park's airstrips. This volunteer agreement marked the first such compact between the NPS and a pilot organization. The NPS also works on the airstrips, such as pavement maintenance.
The RAF works in conjunction with pilot associations and groups from surrounding areas to provide manpower and funds to complete projects. "We have no problem rounding up twenty or so volunteers from all over California and Arizona for a work weekend," said Rick Lach, RAF's California State Liaison.
The RAF pulls weeds and addresses tie-down maintenance at the paved airstrips in Furnace Creek and Stovepipe Wells. Work is more involved at the Chicken Strip, the remote unpaved airstrip in Saline Valley.
When the Chicken Strip washed out and became unsafe after an October 2016 downpour, RAF mustered volunteers and worked to re-open the gravel strip. "We go into Chicken Strip each fall for maintenance," RAF California Liaison Rick Lach said. "We pull the drag to smooth out the 'whoop-de-doos', and volunteers fill low spots with rakes and shovels."
"It's a real pleasure working with Karen [McKinlay-Jones, Chief Ranger] and Mike [Reynolds, Park Superintendent]," Lach added. "They have been very supportive."
"The RAF is proud of our relationship with the Park Service in Death Valley and we look forward to a continued working relationship throughout the next five years of this renewed agreement," McKenna added.
The Recreational Aviation Foundation is a public 501(c)3 nonprofit organization formed in 2003 to preserve, maintain and create airstrips for recreational access. Its headquarters are 1711 W. College St., Bozeman, MT 59715
-www.nps.gov/deva-
Death Valley National Park is the homeland of the Timbisha Shoshone and preserves natural and cultural resources, exceptional wilderness, scenery, and learning experiences within the nation's largest conserved desert landscape and some of the most extreme climate and topographic conditions on the planet. About two-thirds of the park was originally designated as Death Valley National Monument in 1933. Today the park is enjoyed by about 1,300,000 people per year. The park is 3,400,000 acres – nearly as large as the state of Connecticut. Learn more at www.nps.gov/deva.