News Release
Hazmat Spill Due to Vehicle Accident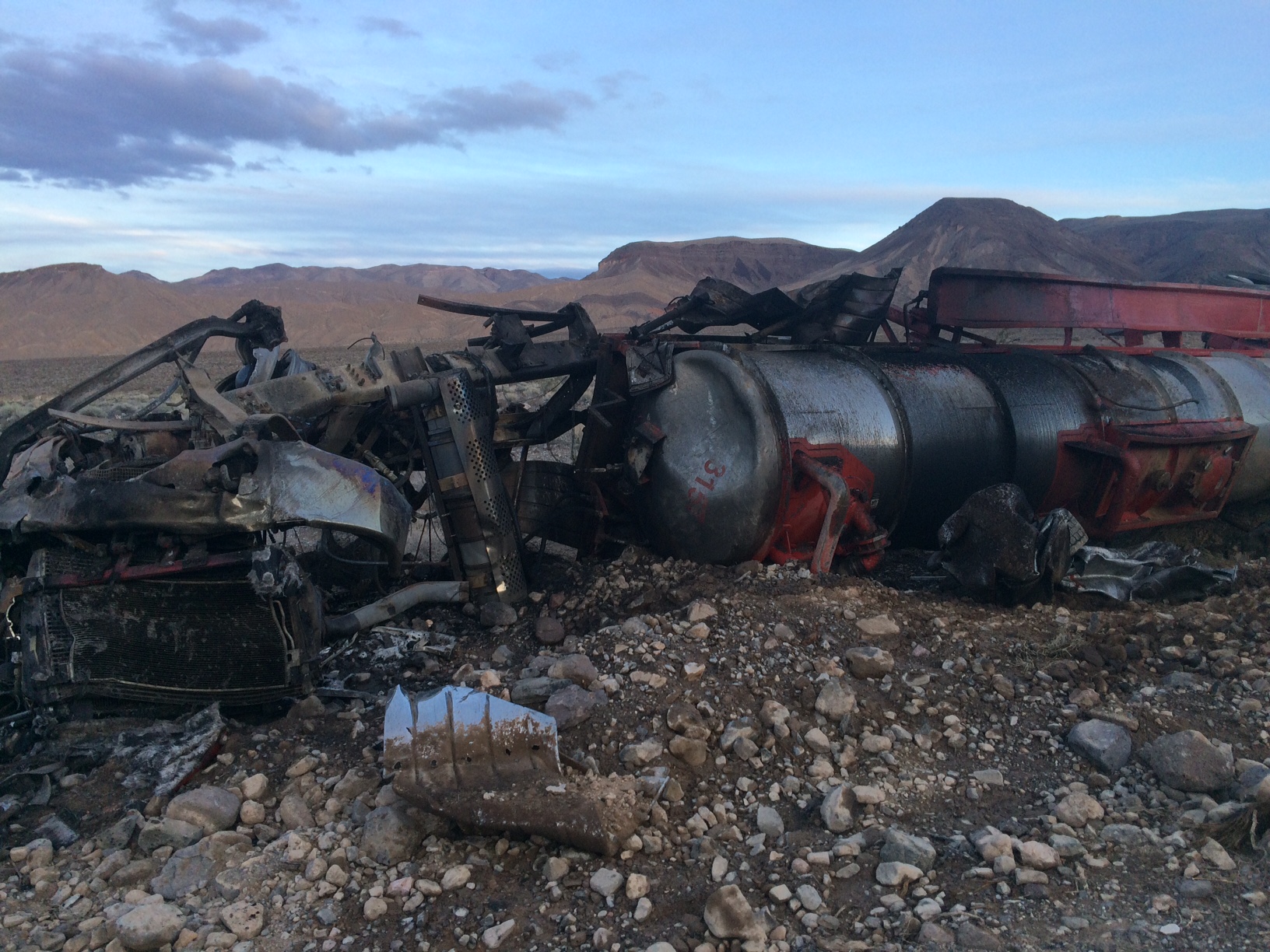 News Release Date:
March 14, 2018
Contact: Hilary Clark, 760-786-3279
DEATH VALLEY, CA –Around 2:15 pm on Monday, March 12, a truck driver heading eastbound on California Highway 190 lost control of his vehicle near Emigrant Campground. The truck careened into the desert, landed on its side, and caught on fire.
National Park Service protection rangers responded with an ambulance and kept visitors away and safe from the burning truck filled with chemicals. Around two hours later, mutual aid from Nye County, Nevada came in the form of hazmat and medical personnel, as well as a fire engine. Additionally, units from California Highway Patrol, Inyo County, and Cal Trans responded in Death Valley. While the accident scene was being investigated, Highway 190 was closed for over seven hours. A National Park Service ambulance transferred the injured driver to the hospital. The truck driver was transporting a slurry mix of cyanide and diluted and neutralized chromatic acid. The company for whom the driver is employed is working with Park Service resource staff to clean up the spill. Superintendent Mike Reynolds notes: "We appreciate our partners from Nye County who responded to assist the National Park Service with this accident. It is concerning when hazardous materials are spilled, because while Death Valley is rugged, it's also fragile."
-www.nps.gov/deva-
Death Valley National Park is the homeland of the Timbisha Shoshone and preserves natural and cultural resources, exceptional wilderness, scenery, and learning experiences within the nation's largest conserved desert landscape and some of the most extreme climate and topographic conditions on the planet. About two-thirds of the park was originally designated as Death Valley National Monument in 1933. Today the park is enjoyed by about 1,300,000 people per year. The park is 3,400,000 acres – nearly as large as the state of Connecticut. Learn more at www.nps.gov/deva.
Last updated: March 15, 2018