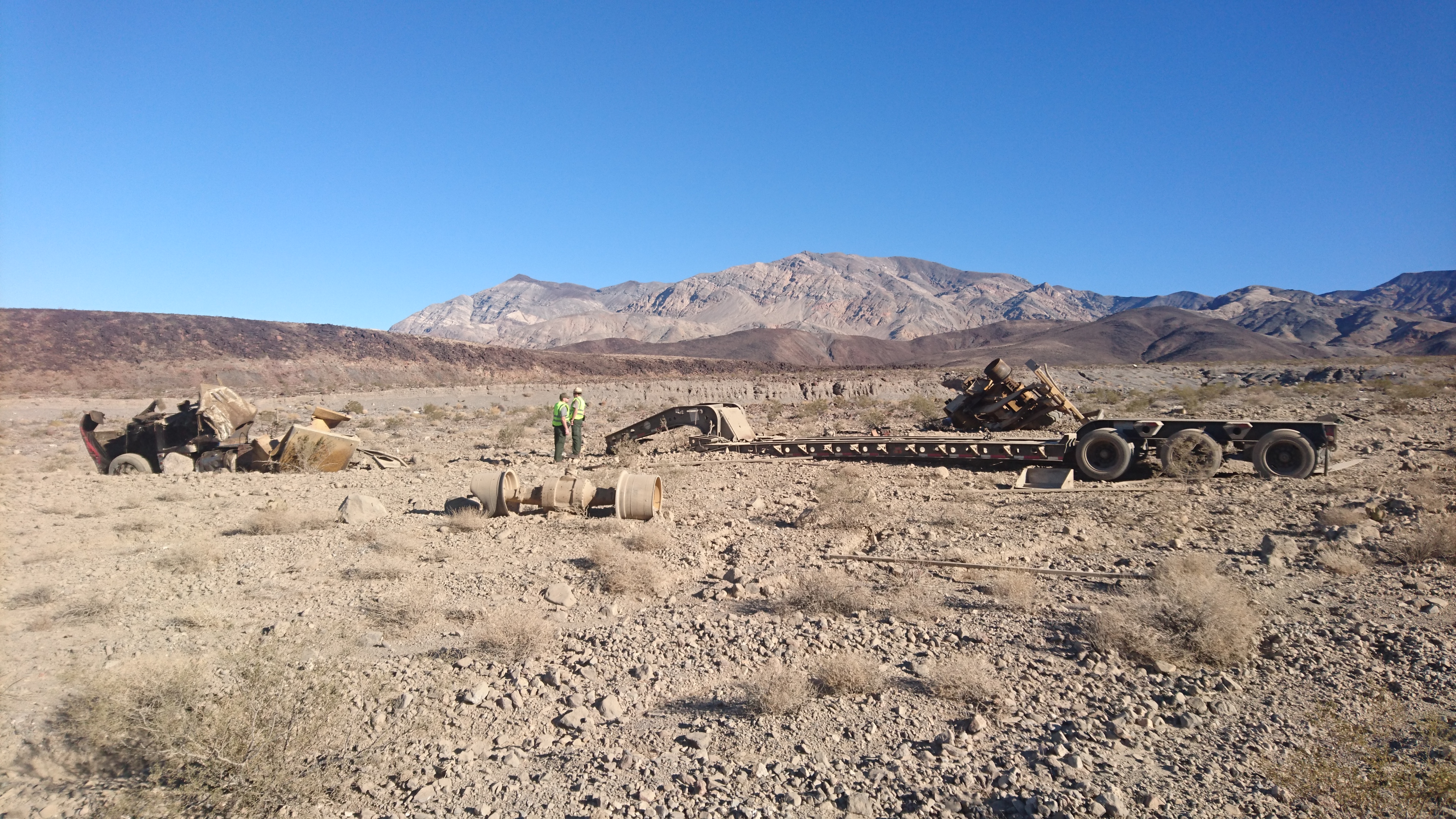 News Release Date:
October 24, 2017
Contact: Abby Wines, Public Information Officer, (760) 786-3221
Fatal Big Rig Accident in Death Valley NP
DEATH VALLEY, CA – A fatal tractor/trailer accident occurred in Death Valley National Park on Monday, October 23.
Dusty West, a 51-year-old Pahrump, Nevada resident, was driving a 1986 Peterbuilt tractor hauling equipment on a flatbed trailer. The accident occurred at 8:33am between mileposts 62 and 63 on CA-190, west of Towne Pass.
The big rig truck was traveling at a high rate of speed when it veered off the road on the north side and rolled several times. Mr. West was ejected from the vehicle and sustained fatal injuries.
California Highway Patrol (CHP), Death Valley National Park rangers, and the Inyo County Coroner responded to this incident. This traffic accident is under investigation by CHP.
Both of the truck's fuel tanks ruptured, spilling approximately 150-200 gallons of diesel fuel. California Department of Transportation (Caltrans) conducted the clean up.
This is the third vehicle-related fatality in Death Valley National Park this year.
-www.nps.gov/deva-
Death Valley National Park is the homeland of the Timbisha Shoshone and preserves natural and cultural resources, exceptional wilderness, scenery, and learning experiences within the nation's largest conserved desert landscape and some of the most extreme climate and topographic conditions on the planet. About two-thirds of the park was originally designated as Death Valley National Monument in 1933. Today the park is enjoyed by about 1,300,000 people per year. The park is 3,400,000 acres – nearly as large as the state of Connecticut. Learn more at www.nps.gov/deva.