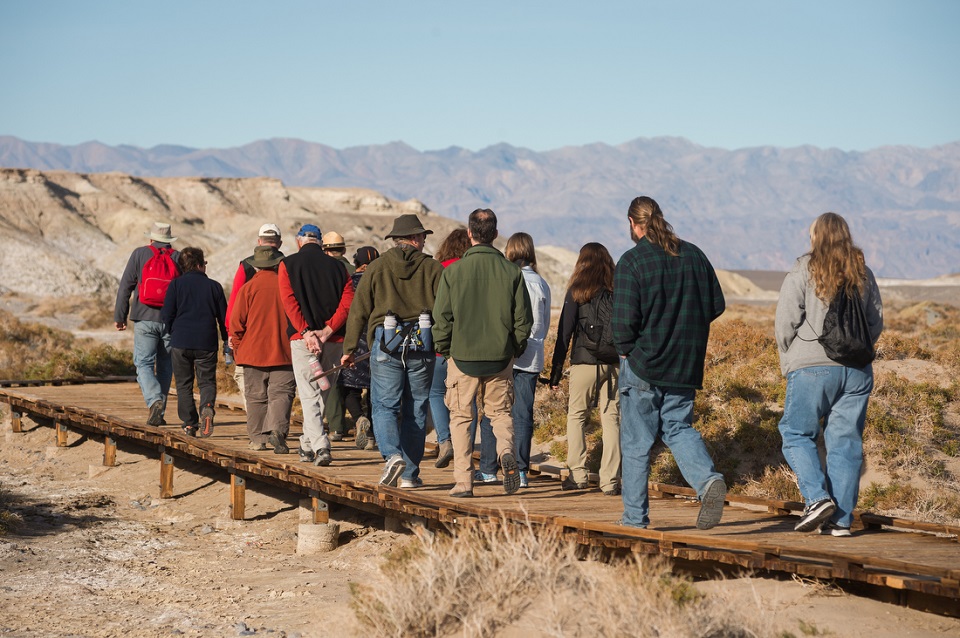 News Release Date:
May 19, 2018
Contact: Abby Wines, 760-786-3221
Contact: Hilary Clark, 760-786-3276
Contact: Patrick Taylor, 760-786-3279
DEATH VALLEY, CA – A National Park Service report shows that last year's visitors to Death Valley National Park spent an estimated $107 million in neighboring communities, supporting 1,390 local jobs.
Approximately 1,300,000 people visited Death Valley last year, roughly tying the park's record visitation set in 2016. Visitor spending in 2016 and 2017 showed a marked increase over previous years, which corresponds with increases in visitation.
The peer-reviewed visitor spending analysis was conducted by economists Catherine Culliane Thomas of the US Geological Survey and Lynne Koontz of the National Park Service.
Death Valley's visitors spent the following amounts in the park's surrounding counties:
$34 million on hotels,

$22 million on fuel and transportation,

$20 million on restaurants,

$11 million on retail purchases,

$10 million on recreation,

$7 million on groceries, and

$4 million on camping.
Death Valley National Park works closely with eight separate gateway communities in California and Nevada including Las Vegas. This vast park spans four counties and serves as an economic driver in many of these rural areas.
"Death Valley welcomes visitors from across the country and around the world," notes Superintendent Mike Reynolds. "We appreciate the partnership and support of our neighbors and are glad to be able to give back to the gateway communities."
Death Valley National Park is the homeland of the Timbisha Shoshone and preserves natural and cultural resources, exceptional wilderness, scenery, and learning experiences within the nation's largest conserved desert landscape and some of the most extreme climate and topographic conditions on the planet. About two-thirds of the park was originally designated as Death Valley National Monument in 1933. Today the park is enjoyed by about 1,300,000 people per year. The park is 3,400,000 acres – nearly as large as the state of Connecticut.