Second Year of Every Kid in a Park Pass for Federal Lands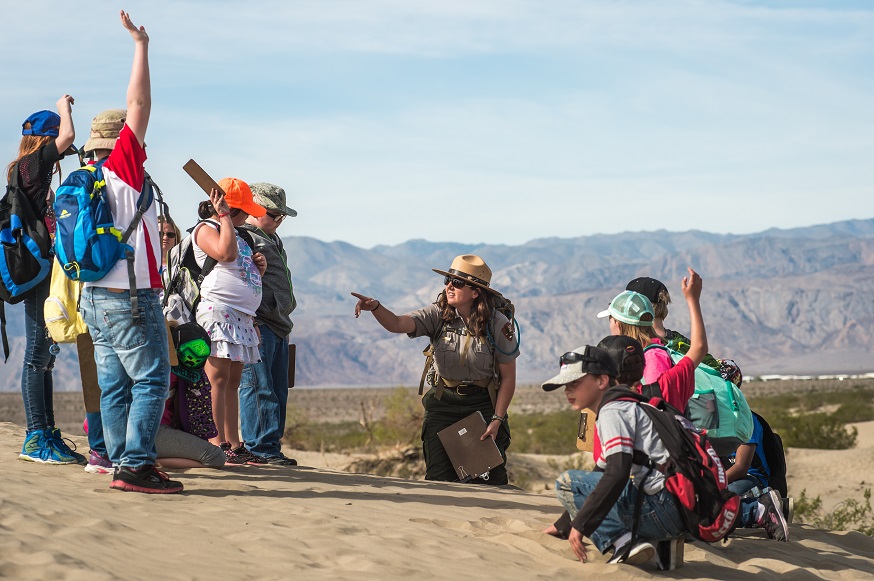 News Release Date:
September 1, 2016
Contact: Abby Wines, 760-786-3221
Contact: Brandi Stewart, 760-786-3226
DEATH VALLEY, CA –Death Valley National Park encourages all fourth graders to visit the park for free this year as part of the Every Kid in a Park program. The program gives fourth grade students, and those accompanying them, free access to more than 2,000 public lands and waters nationwide for a year.Visit www.EveryKidinaPark.gov to download the pass and get more information.
Brandi Stewart, Death Valley National Park's education coordinator, said, "We are excited to continue to welcome fourth grade students, their classes, and their families to experience Death Valley National Park's wonders and mysteries. Death Valley is a place of challenge, beauty, and amazement. We hope the students will get outside and discover something here that speaks to them!"
Death Valley National Park offers many opportunities for students to explore the park including the Junior Ranger program, the #HikeDeathValley program, night sky programs, and ranger-led field trips. Teachers interested in classroom programs or field trips to the park should contact the park's education coordinator at brandi_stewart@nps.gov. Transportation grants may be available. More information on these programs can be found at www.nps.gov/deva.
In the 2015/2016 school year, Death Valley National Park's education staff did 21 classroom visits and hosted 36 field trip groups. "We served 1,551 students last year. We'd love to reach even more this school year!" said Ranger Stewart.
The Every Kid in a Park pass –which features a new design for this year's students –is valid for a full calendar year starting September 1. The pass grants free entry for fourth graders and up to three accompanying adults (or an entire car for drive-in parks) to most federally managed lands and waters, including national parks, forests, wildlife refuges and marine sanctuaries. The Every Kid in a Park program is an Administration-wide effort between the Department of the Interior, the Department of Agriculture, the Department of the Army, and the National Oceanic and Atmospheric Administration.
The newly expanded Every Kid in a Park website has links to educational activities, trip planning, field trip options, the downloadable pass, and additional information in both English and Spanish. After completing a fun educational activity, the child can download and print a pass. The paper pass can be traded for a more durable pass at Death Valley National Park and other participating federal sites nationwide.
Every Kid in a Park is a crucial component of a multi-pronged approach to inspire the next generation to discover all that our nation's public lands and waters have to offer, including opportunities to be active, spend time with friends and family, and serve as living classrooms to build critical skills.
The program continues each year with the then-current group of fourth graders. After 12 years, every school-age child in America will have had an opportunity to visit their public land and waters for free, inspiring the next generation to be stewards of our nation's shared natural and cultural heritage.
For more information, please visit www.everykidinapark.gov and follow the program on Twitter @everykidinapark, Facebook, Instagram and YouTube.
Last updated: September 1, 2016