Safety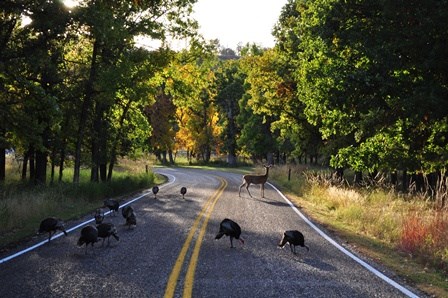 If you have an emergency, call 911!

Devils Tower National Monument is a powerful place with fantastic views, beautiful wildlife, and opportunities for recreation. It is the responsibility of all visitors to know and abide by park regulations. This ensures a safe experience for visitors, staff, and the park itself.
Basic Rules and Tips
When walking the trails, bring water (1 liter per person minimum; more for extended hikes over 2 hours). Wear comfortable walking shoes. In winter the trails are not maintained. Ice cleats, snow shoes, or similar aids are recommended.

All plants, wildlife, and archaeological artifacts are protected. Do not disturb or take anything from the park. Do not feed animals.

Be respectful of this quiet place. It is a national park unit and a sacred site for indigenous peoples.

Traditional cultural landscapes are protected places. Do not disturb prayer bundles or other cultural artifacts.

Check the weather forecast before your visit.
Regulations
The main road at Devils Tower National Monument is

25 mph maximum. The picnic and campground areas are 5 mph. Speed limits are for the protection of yourself, other visitors, staff, and wildlife. Wildlife is present throughout the day but most active at dawn and dusk.

Travel above the boulder field requires a climbing permit.

Pets

may not be taken on trails or left unattended at any time. They may be walked in parking areas if on a leash.

It is illegal and dangerous to feed any park wildlife, including the prairie dogs. Wild animals may bite, kick, or carry disease.
Climbing Devils Tower
Climbing Devils Tower is inherently dangerous. You are responsible for your own safety while climbing.
Emergencies:

Your safety is your responsibility. In the event of an emergency, remain calm and attempt to call 911 or yell down to the Tower Trail. Assistance from local resources and monument staff may be available, though rescue is not certain.

Injury:

The closest medical facility which can treat significant trauma is 60 miles from Devils Tower National Monument.
For more information on park rules and regulations, please see our Superintendent's Compendium.
Last updated: June 23, 2019