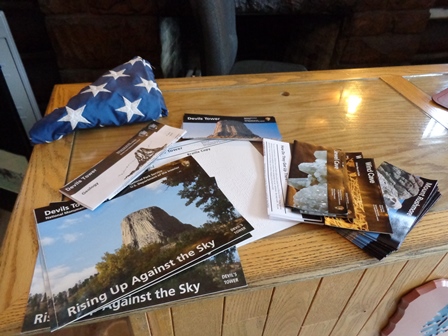 Devils Tower National Monument publishes a wide variety of brochures and site bulletins. These publications are distributed by the park and may be downloaded from this page.
The brochures and site bulletins below, require the free Adobe Acrobat Reader for viewing. For best results, we suggest that you download the file to your computer before viewing or printing.
Accessibility
The Large Font Park Brochure, the Braille Park brochure, and on the Accessibility Page, the audio version of the Park Brochure are available.
Brochures
Other publications are available to help plan your visit and enhance your experience
Park Newspaper
(1.3 MB file):
The park newspaper contains detailed park information and activities. PDF files can be larger than most pages on this site and may take several minutes to download over slower connections.
Devils Tower National Monument Official Brochure
(2746kb pdf file)
General information about fees, camping, activities, and more.
Geology
(41kb pdf file)
Controversial issues face many of our national parks today. These are some of the issues at Devils Tower National Monument.
American Indians & the Tower
(76kb pdf file)
American Indian people have long considered the Tower a place or spiritual and cultural importance.
Information for Climbers
(68kb pdf file)
The Resource Management staff at Devils Tower National Monument are involved in many projects to inventory, monitor, and protect the natural systems that occur within the monument in order to maximize the park's health and diversity.