Accessibility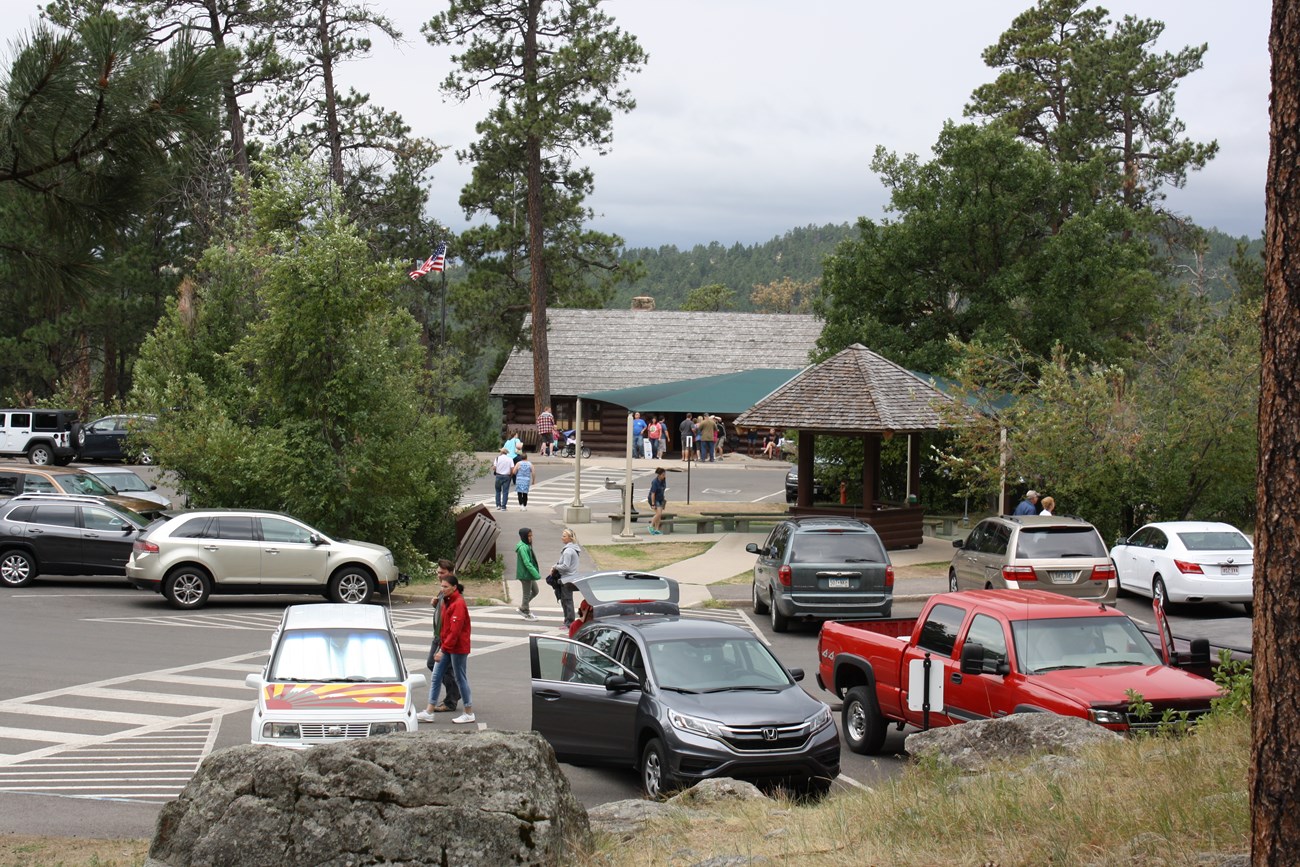 The National Park Service welcomes people with disabilities. If a particular service or issue is not mentioned below please contact the park. You may wish to learn about the National Parks and Federal Recreational Lands Access Pass (also known as the Access Pass) which provides a wide range of discounts on activities and services when you visit federal lands.

The Access Pass is a free lifetime admission and discount pass for US citizens or permanent residents with permanent disabilities. The pass admits the pass owner and any accompanying passengers in a private car. The Access Pass replaces the Golden Access Passport, which is still valid, but can be traded in for the new more durable Access Pass. You can obtain an Access Pass at the Devils Tower entrance station.
Wheelchairs and Mobility
Devils Tower National Monument strives to make all locations throughout the monument accessible to people of all abilities. The process to make all areas accessible is ongoing. Here are some details that may make your visit more enjoyable.
Visitor Center
Built in 1935, the log structure features exhibits on Devils Tower. The doorway will accommodate wheelchairs up to 35 inches in width. Curb cuts allow access to drinking fountains, benches, binoculars, and the information kiosk in the center plaza area. Accessible restrooms are located in the first log building on the right as you enter the visitor center parking lot.
Hiking Trails
The 1.3 mile Tower Trail circles the base of the Tower and is paved. The trail has steep grades and is not recommended for wheelchair users. The steepest part of the trail can be seen from the Visitor Center parking lot. Other trails in the monument are not accessible.
Belle Fourche River Campground
Four sites in the campground are accessible - sites A-2, A-4, B-11, and B-25. Campground restrooms are accessible.
Belle Fourche River Campground Amphitheater
The outdoor amphitheater is wheelchair accessible. Accessible restrooms are available across the street in the picnic area.
Picnic Area
The restrooms and drinking fountain are accessible. There are two picnic tables which will accommodate wheelchairs. They are located on either side of the sidewalk before you reach the restrooms.
Difficulty Hearing?
For visitors with hearing impairments, a variety of publications may be obtained at the visitor center. Wayside exhibits with illustrations and text on natural and cultural features are situated throughout the park and in the visitor center.
Difficulty Seeing?
Large font parks brochure and braille park brochures are available at the visitor center. The audio version of the park brochure is available at the bottom of this page. To request copies of any print version of the park brochure, please contact us by email.
Service Animals
Service animals are allowed in all facilities and on all trails unless an area has been closed by the superintendent to protect park resources.
Definition of Service Animal
NPS policy regarding service animals mirrors guidelines established by the Department of Justice. A service animal is defined as a dog that has been individually trained to do work or perform tasks for the benefit of an individual with a disability, including a physical, sensory, psychiatric, intellectual, or other mental disability.

Dogs that are not trained to perform tasks that mitigate the effects of a disability, including dogs that are used purely to provide comfort or emotional support ("therapy animals"), are considered pets. Service animals in training and pets are subject to the park's pet regulations and are not allowed on trails or boardwalks.
Things to Know
Where domestic animals and wildlife overlap there is a possibility of exchanging diseases between the two groups. Domestic dogs can introduce disease into wildlife habitats and the park's canids (wolves, coyotes, and foxes) are vulnerable to domestic diseases such as canine distemper, parvo virus, rabies, mange,etc. Likewise it is possible for domestic dogs to acquire these diseases from wild animals.
To further prevent the spread of disease:
Service animals must always be leashed or harnessed, under control, and attended at all times.

Food and food containers must never be left unattended and must be kept out of reach of wildlife.

Service animal fecal matter must be picked up and disposed of properly. Fecal matter should be disposed of in a trash receptacle, toilet, pit toilet.
Devils Tower Brochure -Audio Version
We have available, our park brochure in audio format for any who wish to listen to it. Also available is the downloadable MP3 file of each track.
Devils Tower Brochure -Audio Version

Track 1 Menu for other tracks for the audio version of the Devils Tower Brochure.

Credit / Author:

NPS

Date created:

10/14/2020
Devils Tower Brochure -Audio Version

Track 2 Introduction to Devils Tower National Monument and Rising up Against the Sky- The History of Devils Tower National Monument

Credit / Author:

NPS

Date created:

10/14/2020
Devils Tower Brochure -Audio Version

Track 3 Exploring the Park

Credit / Author:

NPS

Date created:

10/14/2020
Last updated: February 14, 2020