Tim Reid Named Superintendent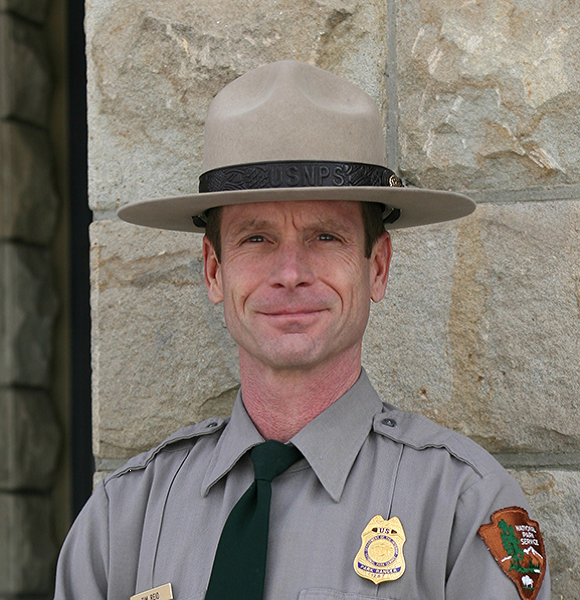 News Release Date:
June 2, 2015
Contact: Nancy Stimson, 307 467 5283
Tim Reid, a 27-year veteran of the National Park Service (NPS), has been named Superintendent of Devils Tower National Monument, according to Intermountain Region Director, Sue Masica. Reid began his new assignment on May 31, 2015.
Reid is chief ranger at Yellowstone National Park, where he manages one of the largest and most diverse visitor and resource protection programs in the NPS. He has served in this position since 2009.
"Tim possesses an impressive range of professional skills that will help him guide America's first national monument into the Park Service's second century," Masica said. "He brings excellent collaboration credentials to his new job and recognizes the interests of all Americans in their public lands. Maintaining a balance in both the protection and enjoyment of Devils Tower remains an important priority for the NPS."
Reid's previous NPS assignments included positions at six national parks: Theodore Roosevelt (ND), Joshua Tree (CA), Rocky Mountain (CO), Pinnacles (CA), Badlands (SD) and Grand Canyon (AZ). He also worked at the U.S. Fish & Wildlife Service's Wichita Mountains Wildlife Refuge (OK).
Reid also served as interim chief of Law Enforcement, Security and Emergency Services at NPS headquarters in Washington, DC, and as interim deputy superintendent at Yellowstone. In 2014, he served an NPS Horace Albright Fellow, performing a variety of special projects and assignments during a six-month leadership development detail.
Reid received his bachelor's degree in wildlife ecology from Oklahoma State University, where he also did graduate coursework in environmental education. He also attended the Harvard Kennedy School of Government Executive Leadership Program.
Reid is a founding member of the Intermountain Region Ranger Advisory Council and is nationally active in incident management, serving as one of the incident commanders for the NPS Intermountain Region All Hazard Incident Management Team.
"I am honored and excited to begin working with the staff at Devils Tower," Reid said. "I look forward to bringing my operational and leadership experience to the monument. I intend to engage promptly with tribal groups, park partners, state and federal representatives, climbers and other constituents as we prepare to celebrate the NPS Centennial next year."
Reid, his wife Charissa, and daughters Anna (19), Olivia (17) and Kate (13) enjoy traveling internationally and are active in an array of outdoor activities.
Devils Tower National Monument is America's first national monument, proclaimed by President Roosevelt on Sept. 24, 1906, under the Antiquities Act. In his new role, Reid will manage a workforce of approximately 18 employees and an  annual operating budget of more than $1.27 million.
To learn more about Devils Tower National Monument, contact 307-467- 5283, visit  at www.nps.gov/deto or www.facebook.com/Devils-Tower-National-Monument-Official-NPS-Site.
Last updated: June 19, 2015