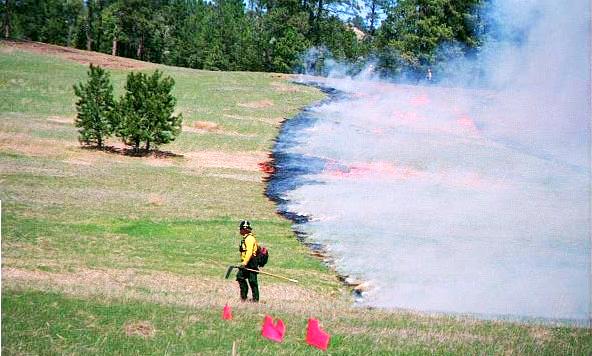 News Release Date:
April 19, 2016
Contact: Nancy Stimson, (307)467-5283
Devils Tower National Monument Plans to Burn 85 Acres
Devils Tower, WY –
Devils Tower National Monument hopes to take advantage of recent precipitation to conduct a small prescribed burn sometime during the next two weeks. Fire management staff from the Northern Great Plains Fire Management Office and Devils Tower National Monument plan to burn 85 acres near the entrance of the monument and east of the Belle Fourche River. 
The objective of the prescribed burn is to remove build-up of dead fuels and woody herbaceous growth, and encourage the growth of native prairie grasses and forbs.  Prescribed burns return a key natural process to the landscape, improve the health of the ecosystem, and can lessen the chance of intense wildland fire in the future.
Prescribed burns are carefully planned, conducted within an approved boundary and ignited only under specific weather conditions such as humidity, fuel moisture, wind speed, direction and short and long range weather forecasts.   If conditions are not acceptable on the scheduled day of the burn, it will be postponed until desirable conditions return.
To learn more about Devils Tower National Monument visit www.nps.gov/deto or www.facebook.com/Devils-Tower-National-Monument-Official-NPS-Site or twitter.com@DevilsTowerNM or Instagram at #devilstowernps
About the National Park Service: More than 20,000 National Park Service employees care for America's 409 national parks and work with communities across the nation to help preserve local history and create close-to-home recreational opportunities.Learn more at www.nps.gov.on Facebook www.facebook.com/nationalparkservice, Twitter www.twitter.com/natlparkservice, and YouTube www.youtube.com/nationalparkservice.