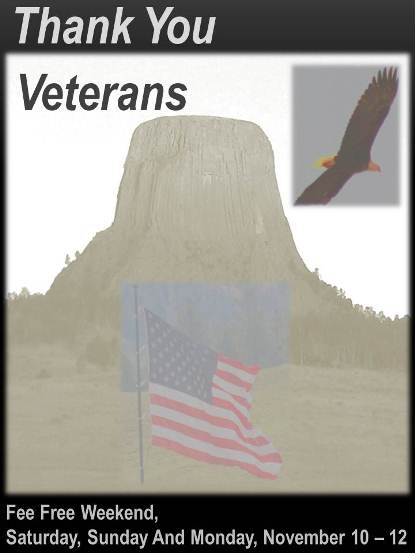 News Release Date:
October 26, 2012
Contact: Nancy Stimson, Information Officer , 307-467-5283
Devils Tower National Monument will be joining national park units across the country in celebrating Veterans Day with fee free entry into the park. This year, the fee free designation will apply to the entire Veteran's Day weekend, Saturday, Sunday and Monday, November 10 - 12.
Americans have been invited to enjoy the land they've protected. In recognition of current and former servicemen and women, all national parks will wave entrance fees throughout Veteran's Day weekend. "From everyone in the National Park Service, I extend gratitude to all who have served in the U.S. armed forces and defended the people, freedoms, and resources of this country," said NPS Director, John Jarvis. "In honor of veterans, entry to the national parks, which preserve many of our nation's finest natural and cultural resources, will be free. I invite everyone to take advantage of this opportunity and savor places that our veterans have kept safe for us."  
The national parks hold something for everyone-hardcore hikers and campers and people who like to explore history, take a leisurely nature walk, or simply pack a picnic lunch and get away from it all. In the parks, visitors of all abilities and interests can enjoy a holiday, often without making more than a short trip from one of the population centers many of us call home.
For more on national park fee free days, go to www.nps.gov/findapark/feefreeparks.htm.
To learn more about Devils Tower National Monument contact a park ranger at 307-467-5283, visit us online at www.nps.gov/deto or on Facebook at Devils-Tower-National-Monument-Official-NPS-Site. Devils Tower National Monument is located, 33 miles northeast of Moorcroft, WY, 27 miles northwest of Sundance, WY via U.S. 14, 9 Miles south of Hulett via WY24, and 52 miles southwest of Belle Fourche, S.D. via S.D. Highway34/WY24.