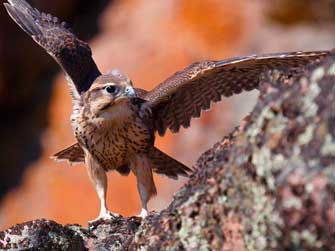 News Release Date:
March 15, 2016
Contact: Nancy Stimson, (307) 467-5283
Devils Tower Climbing Routes Temporarily Closed to Protect Nesting Falcons
Devils Tower, WY –
Climbing routes on the west face of Devils Tower will be temporarily closed to protect nesting Peregrine and Prairie Falcons. The temporary closure will begin March 15 and affects approximately 49 routes. The closure is an annual occurrence at Devils Tower in order to provide these birds of prey with an undisturbed nesting location. Over one hundred climbing routes remain open.
"The closure is implemented not only to protect the birds, but also to protect climbers, as falcons are known to defensively dive in order to protect their nests," said Tim Reid, Superintendent. "The presence of climbers near or above falcon nests can be distressing to parent birds and disturbance from climbing activities may force falcons to abandon eggs or chicks."   Climbers are asked to report any defensive falcon behavior to park staff.Park biologists will monitor falcon activity, and the closure area may be moved, extended or rescinded at an earlier date depending on nesting and fledging activity.
 "The closure will be strictly enforced. All climbers are required to register at the Climbing Registration Office or kiosk before beginning their ascent," said Drew Gilmour, Chief Ranger.
A complete and regularly updated map and list of closed routes.
To learn more about Devils Tower National Monument visit
www.nps.gov/deto
www.facebook.com/Devils-Tower-National-Monument-Official-NPS-Site
Instagram at #devilstowernps
About the National Park Service: More than 20,000 National Park Service employees care for America's 409 national parks and work with communities across the nation to help preserve local history and create close-to-home recreational opportunities. Learn more at www.nps.gov.