News Release
Curlinda Mitchell Blacksheep, Ed.D. Selected as Supervisory Park Ranger for Interpretation & Education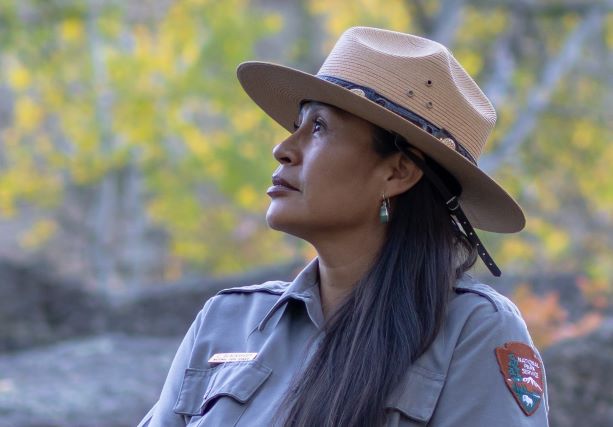 News Release Date:
October 7, 2021
Contact: Amnesty Kochanowski, (307) 467-5283 x213
Contact: Curlinda Blacksheep, (307) 467-5283 x224
DEVILS TOWER, WY — Superintendent Amnesty Kochanowski announced the selection of Curlinda Mitchell Blacksheep, Ed.D. as the new supervisory park ranger for interpretation and education at Devils Tower National Monument.  She will lead visitor services such as managing the visitor center, providing ranger programs, facilitating outreach to the public, and ensuring the history and purpose of Devils Tower and National Park Service (NPS) is shared widely.  In years to come, Blacksheep will reinvigorate the educational program.  Her duties also include liaison to the Devils Tower Natural History Association. 
Superintendent Kochanowski said, "we are delighted that Curlinda is back at the Tower.  In fall 2018, she was interim supervisory park ranger for a few months and excelled in the position.  Curlinda's broad experience and collaborative leadership style will serve the park well.  Every day, Curlinda prioritizes staff and their well-being.  She is a forward thinker and values community relations." 
Since 1998, Blacksheep has served at Navajo National Monument.  She worked in every department and most recently was Lead Park Ranger Interpreter.  In addition to the interim assignment at Devils Tower, Blacksheep also served as interim supervisory interpretation ranger at Glen Canyon National Recreation Area/Rainbow Bridge National Monument and as superintendent at Navajo National Monument.  She also has been active at the regional and national level of the NPS and sat on various elected advisory boards such as the National Association for Interpretation. 
"I am excited and honored to work in such a beautiful, peaceful, and powerful place called Bear Lodge, as our ancestors have been coming to this place for balance, healing, and peace for centuries. Thank you for allowing me to be a caretaker and educator to grow stewards of a strong reverent place with an awesome talented NPS team," says Curlinda.
Blacksheep holds a bachelor's degree in enterprise in society-business administration, master's degree in educational leadership, and doctorate in education.  She is a certified interpretative coach, is fluent in the Diné language and is a published author with most recently coauthoring the book, Healing Power of Leadership: Lessons from the Coronavirus Lockdown. 

Blacksheep comes to us from the Diné Nation and is of the Living Arrows Bitterwater Clan and born for the Base of Mountain Towering House People Clan. She relocated to Crook County with her husband, Christeson, who is a retired NPS law enforcement park ranger, and four children, Brittany, Hailey, Nizhoni, and Isaiah, in September and looks forward to exploring, connecting, and engaging with the community surrounding the Tower.
Last updated: October 8, 2021