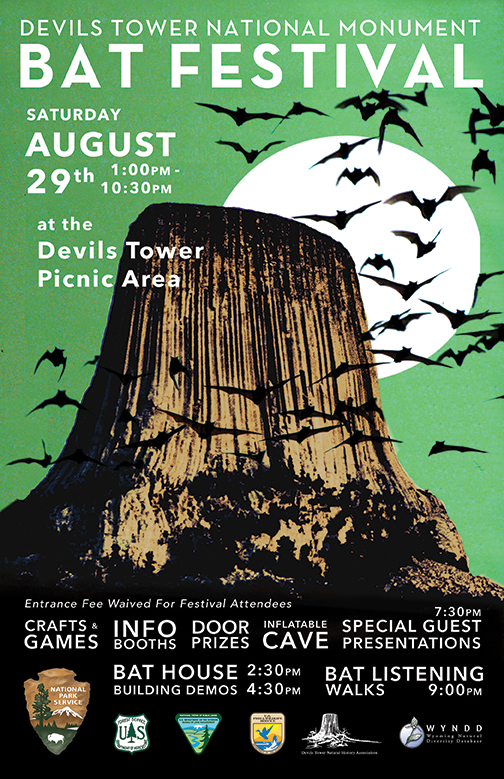 News Release Date:
August 19, 2015
Contact: Nancy Stimson, 307 467 5283
Devils Tower National Monument will host a Bat Festival August 29th, 1:00 –10:30 p.m. in the Picnic Area. The festival will feature demonstrations on how to build bat boxes, information booths, crafts, and activities for kids.There will also be door prizes, an inflatable cave, and guest presentations.Bat listening walks will be offered during the evening hours.Visitors can use special detectors to listen to echolocation calls as bats fly overhead.The park entrance fee will be waived for those attending the festival.
The northern long-eared bat, Myotis septentrionalis, is among 11 bat species that have been identified at the Monument.Earlier this year, the northern long-eared bat was listed as a threatened species under the Endangered Species Act."The festival is a great opportunity for visitors of all ages to learn about bats and their habitat, and the importance of protecting them." said Rene Ohms, Chief of Resource Management."By hosting this festival we hope to share the amazing world of bats with the public and foster support for bat
conservation efforts."
The Bat Festival is a partner event, with support from the U.S. Fish and Wildlife Service, the Bureau
of Land Management, the U.S. Forest Service, the Wyoming Natural Diversity Database, and the Devils Tower Natural History Association.
For a complete schedule of the Bat Festival and to learn more about Devils Tower National Monument
visit www.nps.gov/deto or www.facebook.com/Devils-Tower-National-Monument-Official-NPS-Site or twitter.com@DevilsTowerNM.

~NPS~