Date:
August 7, 2015
Contact:
Nancy Stimson
, 307 467 5283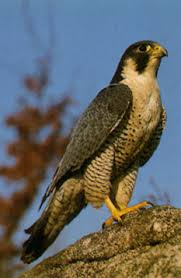 All climbing routes and summit areas at Devils Tower National Monument are reopened after peregrine
falcons successfully fledged from the southeast face of the Tower. "Young peregrine falcons were observed feeding and flying well and are no longer dependent on the nesting areas of the Tower previously closed to climbing." said Rene Ohms, Chief of Resource Management. 
Earlier this year climbing routes were temporarily closed to protect the young falcons, allowing them an undisturbed nesting location and protecting climbers from parent birds who defensively dive in order to protect their nests.
Peregrine falcons experienced sharp population declines in the 1960s and 1970s, primarily due to widespread use of the insecticide DDT. Peregrine falcons, listed as endangered in 1970, made a remarkable recovery and were removed from the endangered species list in 1999. The return of peregrine falcons to Devils Tower in 2013 is another sign that the species is recovering well and continues to be one of the greatest success stories of the Endangered Species Act.
To learn more about Devils Tower National Monument, contact 307-467-5283, visit us online at www.nps.gov/deto, www.facebook.com/Devils-Tower-National-Monument-Official-NPS-Site or twitter.com @DevilsTowerNM.

~NPS~