NPS Centennial Event - Adopt a Crag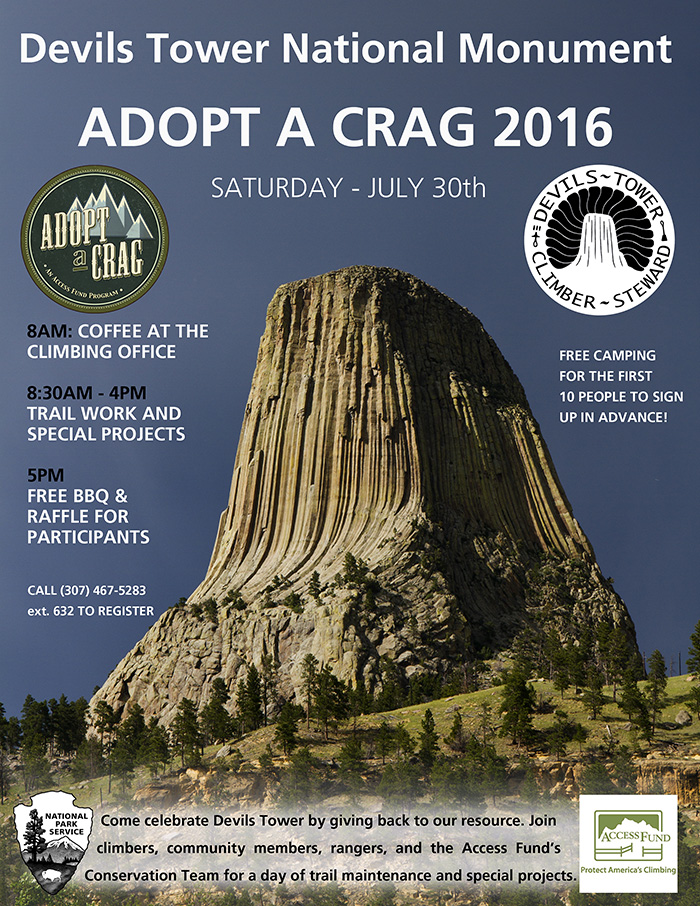 News Release Date:
July 22, 2016
Contact: Nancy Stimson, 307.467.5283 x224
Devils Tower will host "Adopt A Crag," an effort sponsored by the climbing community to clean up and maintain areas around the Tower. Celebrate Devils Tower by giving back to the resource during this centennial year of the National Park Service. Join rangers, climbers, community members, and the Access Funds' conservation team for a day of trail maintenance and cleanup. Participants will help restore trails which access climbing routes on the Tower, perform general trash cleanup, and assist resource management with special projects. Projects are available for all ages and skill levels.
Meet at the Devils Tower Climbing OfficeSaturday July 30 at 8:00 am. Projects will take place at various locations around the Tower. Afterwards, there will be a free barbecue and prize raffle for event participants.
This event is sponsored in partnership with The Access Fund, a national non-profit organization dedicated to keeping climbing areas open and conserving the climbing environment. Over 140 of these events are hosted annually across the country.
Last updated: May 7, 2019