Be A Junior Ranger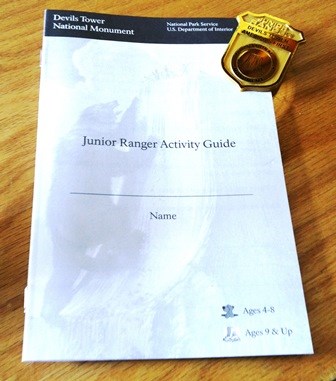 What is a Junior Ranger?
Junior Rangers help to preserve and protect national parks. They learn about nature and history, have fun exploring the parks, and tell their friends, families, and schoolmates about their adventures. Junior Rangers continue to protect the environment at home and at school.
How can you become a Junior Ranger?
The Junior Ranger program at Devils Tower National Monument is design for people aged 4 and up (yes, event adults can be Junior Rangers!) Junior Ranger books and badges are free of charge. The Devils Tower Natural History Association (in the visitor center) sells Junior Ranger patches for $1.
To become a Junior Ranger, just ask for a Junior Ranger Activity Booklet at the visitor center. Complete the number of activities equal to your age. When you finish your activities, bring the booklet back to the visitor center for review by a ranger. Each Junior Ranger will take a pledge and receive an official Devils Tower Junior Ranger badge!
Online Junior Ranger Activities
If you are visiting Devils Tower National Monument and would like to start working for your Junior Ranger badge, you are in luck! You can download a copy of our Junior Ranger Booklet from right here! Once downloaded (2.8 MB) you will have to print the booklet to get started.
You can also check out national Junior Ranger programs on the park service's website to collect more badges and patches.
Last updated: September 24, 2019