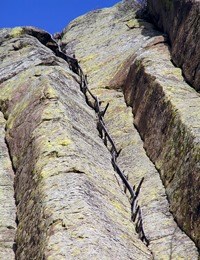 Making History
The first recorded climb of Devils Tower occurred over ten years before its establishment as a national monument. Willard Ripley and William Rogers were two ranchers living near the Tower in the 1890s. Working together, the two managed to construct a simple stake ladder which they used to climb to the Tower's summit. The feat was well promoted and drew spectators from as far as Rapid City, SD.
As years went on an untold number of people used it to scale the Tower columns. But by the 1920s the ladder was in a state of serious disrepair. The bottom section has since been removed, with the top 200 feet restored by the park service in 1972. Visitors today can still see the old stake ladder - it is visible with the naked eye, but more easily spotted with binoculars or a good camera zoom. The story of the stake ladder has become a fascinating part of the park's cultural history.
The ladder marks the beginning of a long history of climbing at Devils Tower. Although it was used by others after its construction, only a handful of stories survive. In 1937, a group of rock climbers sought to make history by scaling the sides without the use of a ladder. They would start a new tradition of climbing that still exists to this day.