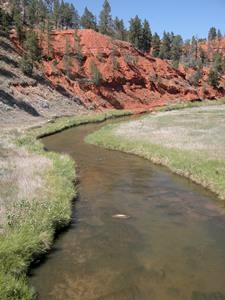 "Belle fourche" (pronounced bell FOOSH) means "beautiful fork" in French; the river was also known as the North Fork of the Cheyenne by many early explorers. The Belle Fourche River has its headwaters to the southwest of Devils Tower, and is an important part of the ecosystems along the north edge of the Black Hills. It also had a starring role in the formation of the Tower itself.
Geologic Significance
The various formation theories of Devils Tower generally have one thing in common: the land around the Tower has been exposed to a high level of erosion. There are many forces of erosion (wind, rain, gravity), but the primary force acting on the sedimentary rock layers around the Tower was the Belle Fourche River. Some geologists believe the river system was much larger millions of years ago; looking at the Belle Fourche today, it is hard to believe it could carry off enough land to bury the 867-foot monolith. That is because humans have acted to change the natural flow of the river.
Changing the River
Today the Belle Fourche River flows calmly past the base of Devils Tower. Visitors cross over the river shortly after entering the park. Its waters provide a crucial resource for area ranchers in an otherwise dry land. At one time, the Belle Fourche experienced annual spring flooding. These floods would wash out the original park bridge;the park service channelized a small part of the river in 1937 to protect the bridge.
In the early 1950s the Bureau of Reclamation started a project to create the Keyhole Reservoir on the Belle Fourche, several miles upstream of the Tower. The goal was to provide irrigation and flood control for the surrounding region.The reservoir, managed by the Bureau of Reclamation, has since become a popular state park that provides a place for water recreation such as boating and fishing. The dam and reservoir have greatly decreased the flows of the Belle Fourche downstream, including through the park.
The channelization and damming of the river have created long-term impacts to the ecosystem. Many of the old cottonwood and willow trees are dying out due to the absence of spring floods. Without the replenishing effects of the flood waters, new trees are not growing to replace the old. This is evident along the river bottom and through the park campground.