Working for a Greener Denali
Denali National Park and Preserve is committed to being a leader in sustainable practices. We strive to make environmentally-responsible park operation and management decisions, directly supporting our mission to protect the park's significant, intact ecosystems and maintain them for visitors today to experience, as well as future generations. Environmental sustainability is an important piece of preserving Denali's wild lands.

Current park projects include reducing waste by reusing and recycling, building and maintaining environmentally-friendly buildings, making environmentally-responsible purchases, and researching the effects of climate change on natural and cultural resources. To learn about what the National Park Service as a whole is doing, check out the NPS Green Parks Plan.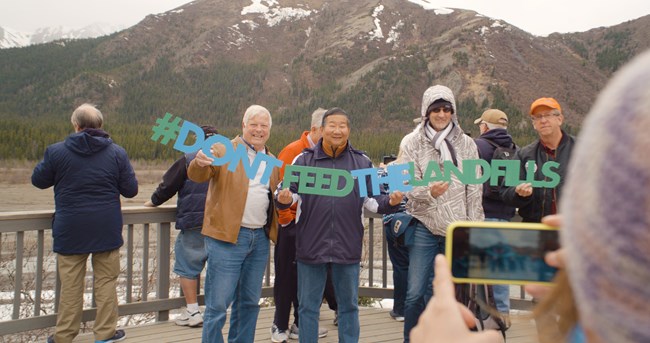 Don't Feed the Landfills Initiative
Since 2015, Denali has been a leading national park in the Don't Feed the Landfills Initiative, a collaborative effort to decrease the amount of park waste created and sent to the landfill. By encouraging employees, visitors, and local businesses to reduce, reuse, and recycle, the park decreased its landfill dumps by 30% in the first three years.
Sled Dog Poop Composting
Denali has the only working sled dog team in the national park system and is also the only national park that specifically composts dog poop! Each dog produces about 0.75 pounds of poop each day, which can add up to about 8,760 pounds per year. During the summer, the poop is mixed with sawdust to create a 30:1 carbon to nitrogen ratio and left to sit in the covered composting bins, with rangers stirring it every 1-2 weeks. Staff continues to collect and pile the poop through the winter but with freezing conditions (try stirring a frozen pile of poop!) composting takes much longer, about 1-2 years. In summer, the whole process generally takes about 4-8 weeks and the nutrient rich soil is used to fill flowerpots that decorate the sled dog kennels and shared with the local community. In 2021, the kennels produced 6,650 pounds of compost.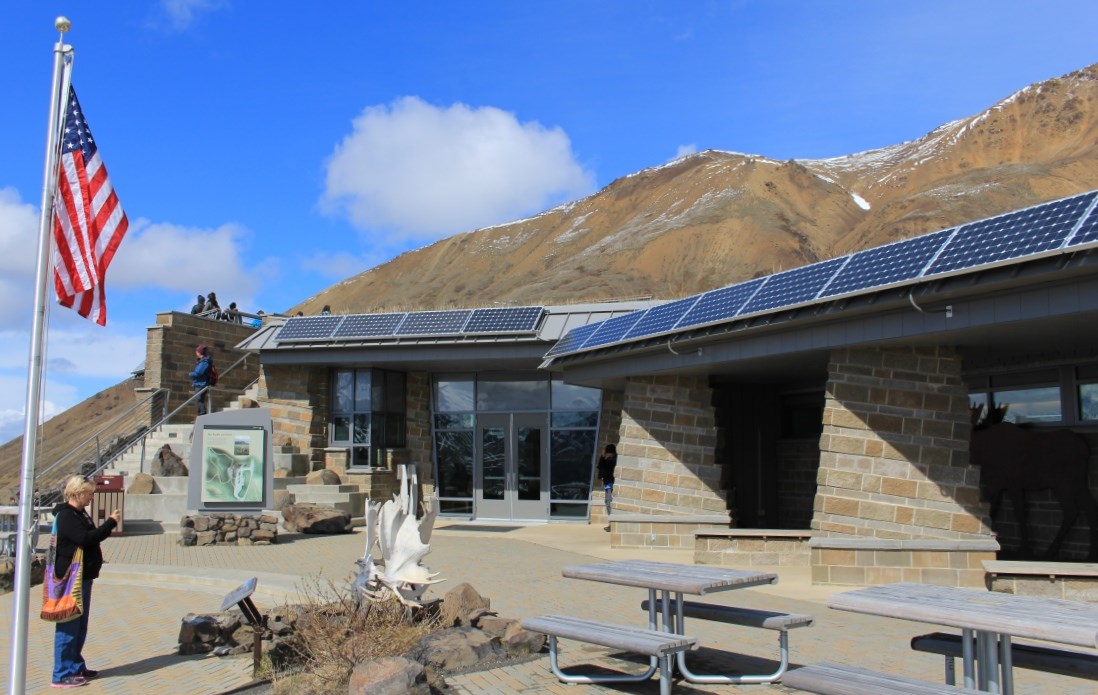 Denali's Green Buildings
Denali uses the LEED rating system to guide the design and construction of new facilities. LEED stands for Leadership in Energy and Environmental Design and was created by the U.S. Green Building Council, a non-profit dedicated to sustainable building design and construction.
Eielson Visitor Center

The Eielson Visitor Center was rebuilt with work completed in 2008. It earned a LEED platinum rating (the highest achievable LEED rating) and showcases locally sourced materials from within 500 miles, floor tiles made from post-consumer tire rubber, solar panels, and large windows that provide an abundance of natural light. More than 75% of the demolition and construction waste was diverted from landfills.

Denali Visitor Center

The Denali Visitor Center opened in 2005 and earned a LEED silver rating. It features solar panels built into south-facing windows, low water consumption restroom fixtures, and locally sourced wood for logs, siding, and trim.
Research and Education
Park scientists are researching and documenting the
effects of climate change
on Denali's natural and cultural resources and rangers strive to include these themes and information in programs for visitors.
Other Sustainable Practices and Infrastructure
Denali is developing a fleet of electric and hybrid vehicles and installing electric car recharging stations at work vehicle parking areas.
On frigid days, employees can utilize the "smart" plug-ins at parking spaces to warm their cars' engines. The "smart" plug-ins automatically turn off once the necessary temperature is reached.
The park auto shop collects and saves used motor oil. Rather than disposing it, the waste oil is burned to heat the auto shop. In 2019, they converted 4,500 pounds of waste oil into energy.
Park vehicles are cleaned in the wash bay with recycled water to minimize water waste. The wash water drains back into the main supply and will continued to be reused until it evaporates.
The road crew extracts gravel from within the park to maintain the Park Road. This reduces fossil fuels used for transportation and prevents the introduction of invasive plants.
Last updated: August 18, 2021