Don't Feed the Landfills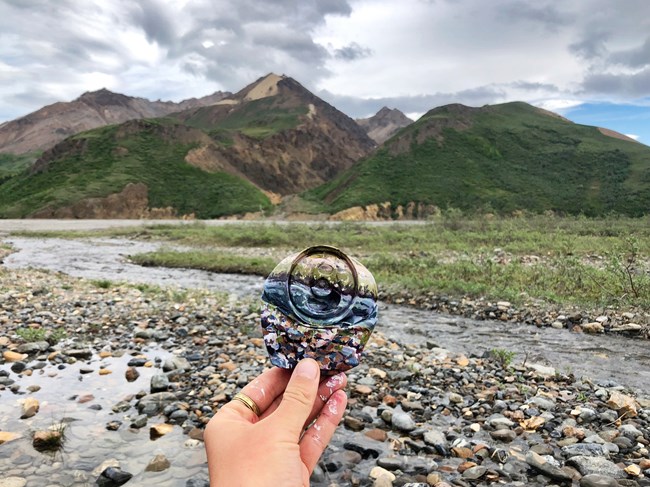 Denali National Park is a pristine wilderness with over 6 million acres of protected, intact ecosystems, drawing over 600,000 visitors to recreate in the park every year. Unfortunately, this large amount of visitation isn't without consequence. The dirty, smelly truth is that, on average, the park generates about 320 pounds of trash each year that ends up buried in the local landfill. Even in this land of beauty and expanse, the trash needs to go somewhere, and with so many people seeking to visit this wild place, it's hard to avoid. Or so we thought...

In 2015, Denali joined the Don't Feed the Landfills Initiative in partnership with the Denali Education Center and Doyon/Aramark Joint Venture, with support from Subaru of America, the National Parks Conservation Association, and the Denali community. Together, we dreamed up sustainable solutions and began taking steps to minimize the amount of park waste each year. By 2018, we reached our goal of diverting 30% of trash from the landfill by actions such as expanding recycling opportunities, encouraging reusable products (like water bottles and bags), and piloting an employee and food service composting program. Even though our initial goal is reached, the park strives to do better, as our mission continues to be a good neighbor and #DontFeedTheLandfills.

Meet the Landfill
Garbage from park trash bins is brought to the Denali Borough Landfill, located 45 miles north of the park entrance in remote Alaska. Despite the ample space, expanding the landfill involves encroaching on beautiful landscapes and wildlife habitat.
Amount of park garbage sent to the Denali Borough Landfill each year:
1995: 15 tons
2016: 321 tons
2019: 182 tons
Ways Denali is Diverting Waste
Recycling
Improving recycling options at visitor centers and rest stops by adding triple bin recycling containers next to trash receptacles to collect glass, #1 and #2 plastic bottles, #5 plastic containers, and aluminum.

Using standardized Recycle Across America recycling labels to help visitors easily recognize what is recyclable inside the park.

Partnering with the Denali Borough and other key stakeholders to improve recycling opportunities for gateway businesses.

Supporting tour concessioner, Doyon/Aramark, to provide tour bus snack boxes filled with foods and drinks that use recyclable wrappers and containers. This included recycling snack wrappers with a lower 48 recycling business and switching water bottles from plastic to aluminum (more recycle efficient). Coordinating with tour drivers to provide opportunities for recycling on the buses as well as the chance to donate uneaten snacks.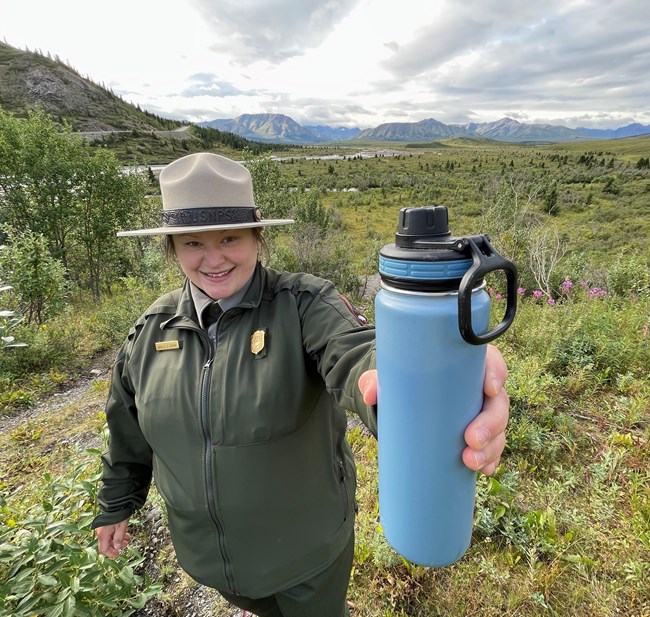 Reusing
Phasing out plastic bags and single-use plastic water bottles by providing alternative options in giftshops and stores.

Installing additional water bottle filling stations.

Replacing paper cups with reusable coffee cups in the Morino Grill.
Composting
Establishing composting opportunities for employee waste using the Earth Cube composting system. In 2020, 1,058 pounds of usable compost was made available to park staff for gardening. Prior to composting, food waste was 40% of what we sent to the landfill.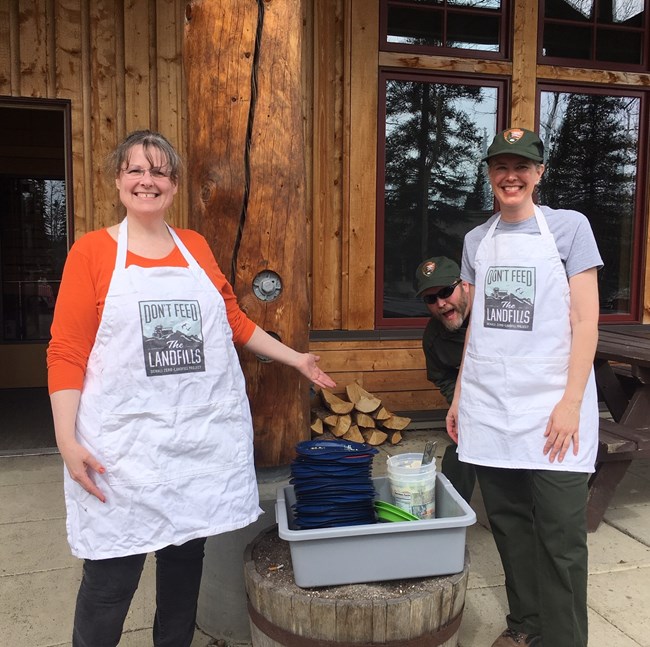 Employee Engagement
Educating staff about recycling opportunities during training and continuing outreach throughout the year.
Providing reusable bamboo utensil sets and recommending that employees bring their own reusable plates, bowls, and cups to events.
Improving recycling center signage with examples of what can and cannot be recycled to decrease user error (such as putting the wrong item in the wrong bin, oops!).
Empowering divisions to recycle and compost in their own buildings.
Expanding employee recycling options to include items such as fuel, bear spray, glass, plastic films, batteries, and bubble wrap.
Encouraging employees to share their ideas!
Youth Engagement
Empowering local students at all grade levels, through the Zero Landfill Ambassador Program, to develop their own sustainable solutions and action plans. Projects included organizing an intra-school social media challenge to use reusable mugs at a local coffee shop, initiating mixed paper and other recycling within the Denali Borough and Talkeetna schools, hosting a Compost Carnival at Halloween to teach elementary students about composting and recycling, and pilot testing food waste collection for composting in cafeterias.
Inspiring Local Businesses
Sharing our vision, businesses in the Denali community are engaged in the Don't Feed the Landfill Initiative, making changes to their own operations that can have a huge impact. Some of their accomplishments include:
Installing bulk dispensers in hotel rooms (gel, conditioner, and shampoo) and restaurants (condiments, jams, milk, etc.).
Offering reusable bags, water bottles, and mugs as alternative options.
Donating used cooking oil to a local family that makes biodiesel.
Installing water bottle filling stations.
Providing employees with reusable takeout containers, water bottles, and mugs.
Developing an employee composting system and building a community garden for summer staff with the usable compost.
Increasing recycling and troubleshooting the logistical challenges of doing so in a remote area.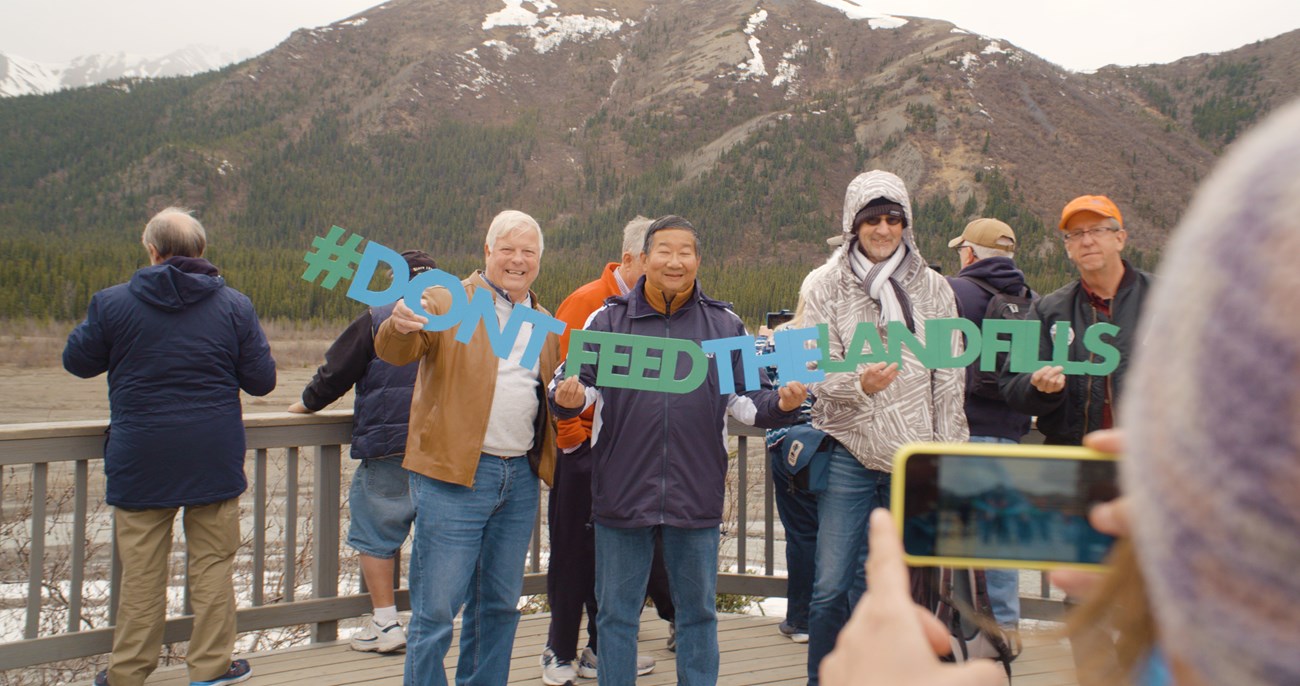 How You Can Help
Before you visit:
Pack a reusable water bottle to fill up at water bottle filling stations located throughout the park. Likewise, bring a reusable mug for coffee and tea.

Recycle before you go! Your home area may have a more robust recycling system than remote Alaska where we're unable to accept common items such as steel cans, clamshell plastics, or cardboard from visitors. Repackage food, gear, and other items into reusable containers and recycle while you pack.

Download the digital version of the park trail map or get the free NPS app to start planning your trip. There is no wifi or cell service beyond Mile 3 of the Park Road, so be sure that your map or app is fully downloaded and you have plenty of battery power if you intend to go completely paperless.

Arrange to borrow outdoor equipment from friends or rent from outdoor stores if you don't plan on needing those items on trips in the future and consider donating your own used gear rather than throwing it away.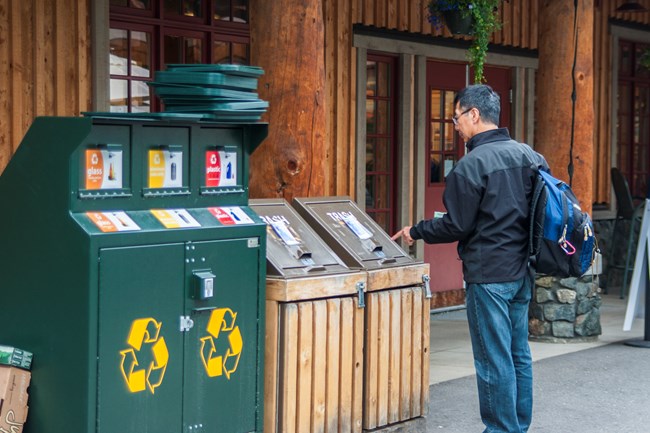 While you're here:
Take the extra step to find a nearby recycling bin and correctly sort your waste. In Denali, visitors can recycle aluminum cans, mixed paper, glass, #1 and #2 plastic bottles, and #5 plastic containers

Use reusable bags or no bags at all when purchasing souvenirs.
Choose paperless options for tickets and receipts.
After you get home:
Let others know: #DontFeedTheLandfills
After all, with all the beauty in this land, why fill it with garbage?
Last updated: August 17, 2021