Zero Landfill Initiative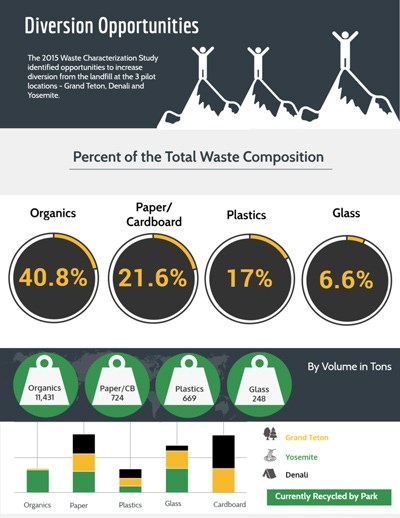 In 2014, over 100 million pounds of waste was thrown away by visitors to America's national parks. However, if that waste could be diverted what would the world look like? Currently, a partnership between the National Parks Conservation Association, Subaru of America, the National Park Service, and park concessionaires are working to answer that question.
This process started with three iconic national parks - Grand Teton, Yosemite, and Denali. These parks collectively generated 16.6 million pounds of visitor waste in 2013. Of that waste, 41% (6.9 million pounds) were kept out of landfills through recycling, composting, and being reused. But now, Denali is taking steps to increase the amount of waste the park diverts from landfills.
Ways Denali is Diverting Waste
Establishing composting opportunities for both employee and visitor waste.
Improving recycling options at visitor centers and rest stops.
Replacing paper cups with reusable coffee cups in the Morino Grill.
Phasing out plastic bags and single-use plastic water bottles.
Spreading the word through a social media campaign, #DontFeedtheLandfills.
Working with the borough and other key stakeholders to improve recycling opportunities for gateway businesses.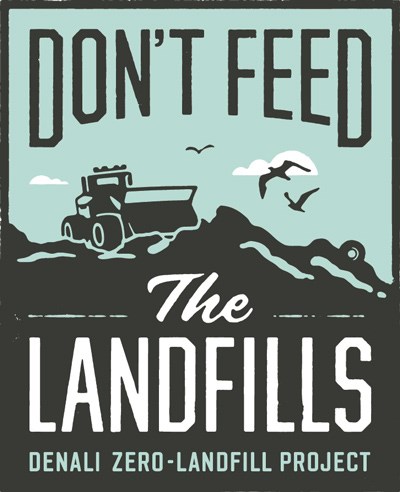 By the end of 2017, Denali and its partners hope to double the amount of waste that they are diverting from entering landfills.
What can you do?
If you would like to take part of this effort there are numerous things you can do. While preparing for your visit try...
Using paperless options for tickets and receipts
Traveling with reusable water bottles
Using reusable bags or no bags at all when purchasing your souvenirs
Taking the extra step to find a nearby recycling bin
Let others know: Don't Feed the Landfills!
After all, with all the beauty in America's lands, why fill it with garbage?
Last updated: July 7, 2016