Backpacking in Denali is inspirational, refreshing, and challenging. With more than 6-million acres of mostly trail-less terrain, there are a lifetime of adventures waiting for everyone in Denali. Sometimes figuring out where to start and what to expect can be overwhelming. We're here to help.
A perfect trip in Denali means different things for different people. Some folks want views of the mountain, the park's namesake, while others dream of seeing a bear or a wolf. Some visitors desire to push their physical limits and ascend alpine ridges, while others prefer a more leisurely stroll through the valleys. Many people have never crossed a river without a bridge (necessary for many trips here), and are intimidated by that new experience. No matter what kind of trip you're looking for, the backcountry rangers at Denali National Park are a great resource.
Before getting a backcountry permit to camp in the backcountry of Denali National Park & Preserve, backcountry rangers work with every group to suggest potential areas to visit based on desired experiences. Our expert staff will also help inspire adventure and set up realistic expectations for every itinerary. There are units that are great for all skill-levels, though beginners are encouraged to
do their research
before their trip, including
bringing the right gear
and
asking the right questions
.
I won't lie to you - Denali is humbling. The weather here is constantly changing, and forecasts aren't reliable beyond a 24-hour period. Off-trail travel is often slow and strenuous. Be prepared for off-trail travel to take at least twice as long as if you were on a trail. The mountains are home to the tallest peak in North America, but only 30% of visitors see "The Mountain", Denali, each year. Although wildlife is plentiful in Denali, large mammals, especially wolves, bears and wolverines, can be difficult to see while hiking. The best wildlife viewing in the park is often done from a bus seat.
In short, if you're planning a trip to Denali National Park & Preserve keep an open mind and limited expectations. Come prepared for anything - it will likely happen. Rain, shine or snow, trail or no - it's worth it! So start planning your perfect adventure and discover Denali.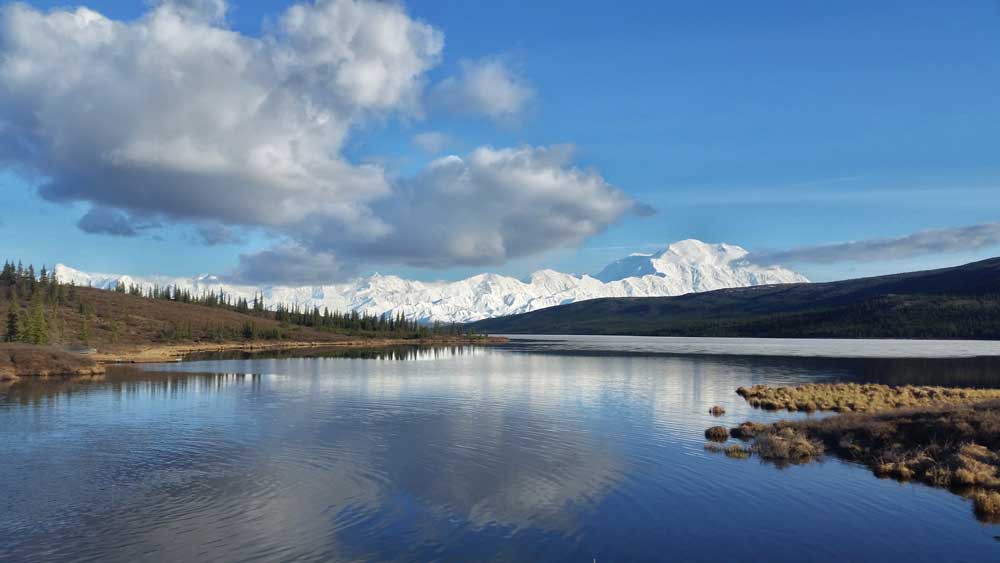 Above: NPS Photo
The photo above and the video below were taken on the same day, 10 hours and fewer than 10 miles apart.