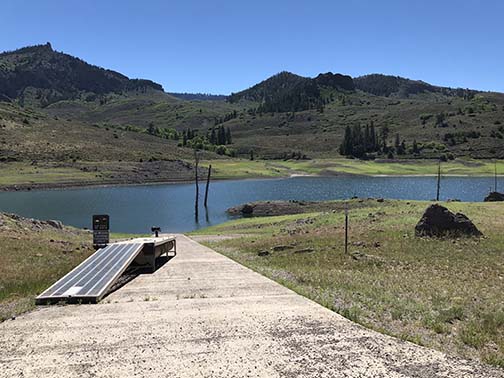 News Release Date:
June 21, 2018
Contact: Sandra Snell-Dobert, 970-641-2337, ext. 227
The forecast for continued dry weather and a rapid decline in the water level of Blue Mesa Reservoir will prevent the opening of Stevens Creek and Ponderosa boat ramps this season. Launching of boats in these locations during low water can result in property damage and safety issues. 
Recreationists using the shorelines of Blue Mesa are advised to park and drive well above the water line. Numerous vehicles have been stuck in recent days, necessitating tow truck calls. Deep, soft mud lines the reservoir as water recedes. Park in designated sites or, if driving the shoreline, stay well above recently inundated edges.
Iola, Elk Creek, and Lake Fork ramps remain open. Summer inspection hours are
5:30 am to 9:00 pm daily.