Sea Turtles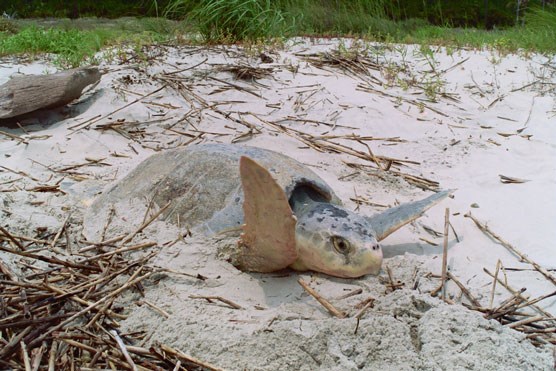 Cumberland's 18-mile undeveloped beach is one of the most important loggerhead sea turtle nesting areas in Georgia. Each year it accounts for 25 to 30 percent of the statewide nesting total. In the last 3½ seasons, Cumberland has produced over 1,800 nests. Loggerhead sea turtles are listed as a Federally threatened species.
The park's sea turtle monitoring program utilizes interns who patrol the beach from May through October each year, locating nests; monitoring those nests; protecting them from tidal washovers and predation; and finally inventorying them after hatching to evaluate success. The interns provide a much needed service to the park and gain valuable experience in their field of study that helps with future employment opportunities.
For over a decade, the park has funded the annual summer internship program in partnership with the Student Conservation Association. 2013 budget realities impacted the long running program by reducing the number of interns serving in this vital monitoring program. Interested in helping Cumberland Island National Seashore's Sea Turtle program?
1) Visit seaturtle.org and learn about our sea turtles and the important work being done to protect our area. You can monitor Cumberland Island and our success specifically.
2) Apply for an internship through the
Student Conservation Association
. Visit their website at www.thesca.org to learn more about competitive opportunities at Cumberland Island National Seashore.
Questions about the park's sea turtle program can be directed to
Doug Hoffman
, Wildlife Biologist, at 912-882-4336 ext 276.
Last updated: June 23, 2020