Volunteer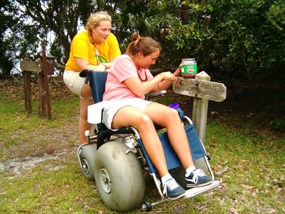 Volunteers assist in many aspects of Park operations including:
supporting education and interpretation programs

assisting with museum and archival work

restoring historic structures

performing trail restoration and maintenance

conducting visitor use surveys

staffing the Cumberland Island Museum

providing information for trip planning at the Visitor Center
Volunteer Testimonials
Everyone has a story. Read about how our volunteers found their way to volunteering on Cumberland Island and be inspired for your own adventure.
Read their stories here.
If you are interested in volunteering please contact Cynthia Brewer via e-mail or call 912-882-4336 ext 228. Current volunteer opportunities are listed below or on the Federal volunteer website, www.volunteer.gov
Current Volunteer Opportunities
Volunteer Partnerships
Every year volunteers donate hundreds of hours to the Seashore through popular programs including our MLK service weekend, our Natural Resource Intern Program, and our Alternative Spring Break program.
Alternative Spring Break. From March to May the Seashore is popular with those seeking warmth and a bit of hard work. During this time frame we accept work parties from up to three college and universities to spend their spring break giving back to the Park. If you are interested in how your school may participate in this program, please contact us at the information listed above.
Last updated: February 14, 2022