Directions & Transportation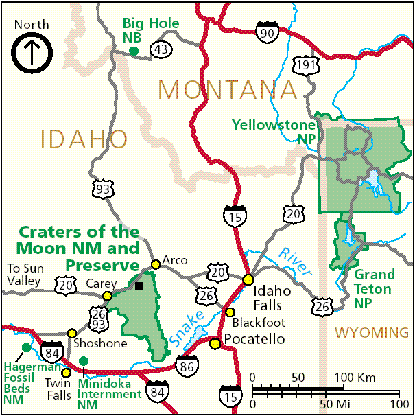 Getting There
Please do not rely upon digital navigation systems to find your way to Craters of the Moon. Please note that the visitor center & loop drive are located just off of U.S. Highway 20/26/93 and are not accessed via any unpaved roads. The physical address for the Robert Limbert Visitor Center is 1266 Craters Loop Road, Arco Idaho 83213.
The latitude and longitude for the NPS Monument entrance are as follows:
Latitude: 43° 27.711'N
Longitude: 113° 33.791'W
It is highly recommended that you begin your visit at the
Robert Limbert Visitor Center
. Staff at this facility can provide guidance for safely exploring the visitor-friendly NPS Monument. Exploration of the
BLM Monument and NPS Preserve
requires additonal planning as well as a high clearance 4-wheel drive vehicle.
Car
Craters of the Moon's visitor center is located 18 miles southwest of Arco, Idaho on U.S. Highway 20/26/93. It is 24 miles northeast of Carey, Idaho on U.S. Highway 20/26/93. The physical address is 1266 Craters Loop Road.
Plane
The nearest airports are located in Hailey, Idaho (60 miles), Idaho Falls, Idaho (84 miles), and Twin Falls, Idaho (90 miles).

Last updated: April 19, 2021