Centennial Celebration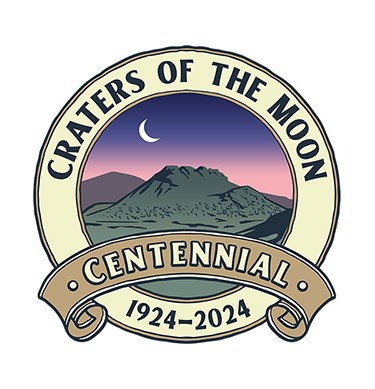 President Calvin Coolidge established Craters of the Moon on May 2, 1924, for the purpose of protecting the unusual lava terrain in southern Idaho. This lunar landscape was thought to resemble that of the Moon and was described as, "a weird and scenic landscape peculiar to itself." Craters of the Moon turns 100 next year, and the park will celebrate the centennial.
During its 100-year history, the perspectives, values, and significances of Craters of the Moon have varied. The park will host multiple activities and events that highlight the "phases of the Moon" experienced at the park.
2024 Centennial Celebration Timeline
The tentative themes for each month are:
May - Cultural History
June - Wilderness
July - Research
August - Geology
September - Night Sky
As the events get closer, we will add details.
How can I get involved?
All events will be posted on the park's website and Facebook.
Contact
the park if you want to support the Centennial by volunteering. Throughout 2024, join in on the festivities and use the hashtag #PhasesoftheMoon
Last updated: August 9, 2023