Wildflowers at Craters of the Moon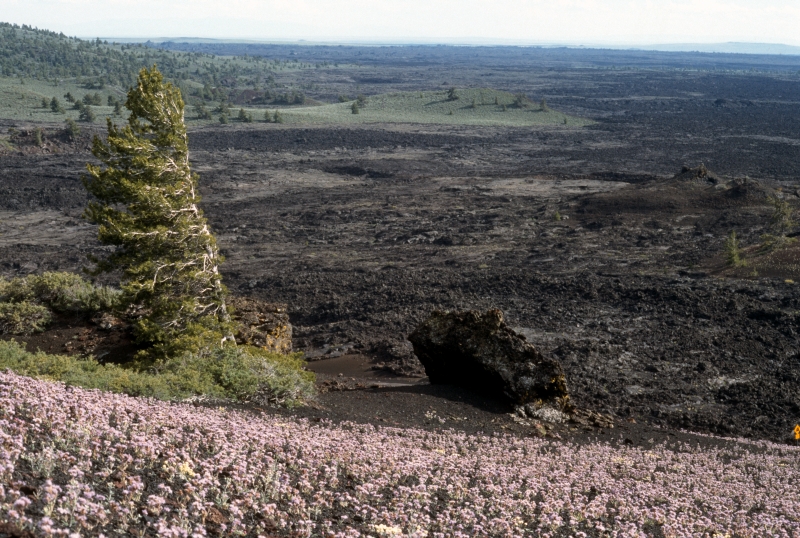 News Release Date:
May 13, 2015
Contact: Visitor Center Staff, 208-527-1335
Recent rains should help make this another banner year for our annual eruption of wildflowers. A variety of flowers are already blooming on sagebrush covered slopes, through cracks in the lava and on cinder fields. Peak bloom typically occurs on the cinder fields in early June and continues through early July.  
Dwarf Monkeyflower, Dwarf Buckwheat and Silver Leaved Phacelia make up the bulk of the display on the cinder cones, but the varied habitats of the park support more than 700 different types of plants. Although June brings the most impressive show of flowering plants, there are a wide variety of wildflowers that bloom throughout the summer.  
Our Facebook page provides regular reports on wildflowers and other observations in the park:
https://www.facebook.com/CratersoftheMoonNationalMonument
A variety of special events are being offered this spring during the peak wildflower bloom:
May 23
– Nature Journaling Workshop:
10 a.m. - 1 p.m.
Learn to create your own illustrated nature journals. Crater's Artist-in-Residence, Poo Wright-Pulliam, will lead a workshop beginning with a
10 a.m.
classroom session (1 hour) and ending with 2 hours of "journaling" in the field. Bring a notepad, color pencils and a lunch. Workshop will conclude at
noon
. Meet at the visitor center. Call
(208)527-1335
to make a reservation, workshop is limited to 25 people.
June 13
- Wildflower Walk:
10 a.m. - 1 p.m.
June is the peak of the wildflower season at Craters of the Moon. Join the park botanist on this guided 2 mile walk that will cover a variety of habitats and introduce participants to a number of plant species. Pack a lunch to be eaten in the field, wear sturdy shoes, and bring water. Meet at the Tree Molds parking lot at
10 a.m.
Call
(208)527-1335
to make a reservation, walk is limited to 25 people. 
June 19 & 20
- Nature Photography Workshop: Fri.
5 p.m. - 8 p.m.
, Sat.
8 a.m. - 4:30 p.m.
The Craters of the Moon Natural History Association will be offering a photography workshop taught by photographer and retired park ranger, Douglass Owen. You will learn photographic techniques and naturalist skills that will lead to greater success in nature photography. 
Friday
evening there will be classroom session from
5 to 8 p.m.
Saturday
will be spent in the field shooting pictures. Lunch will be provided
on Saturday
. Half of the registration fee ($25) will go to assist schools with travel expenses for field trips. Call 527-1360 to make a reservation, workshop is limited to 15 people. Meet at the visitor center. 
More public domain images  of  wildflowers are available on our flickr page:
Last updated: May 13, 2015