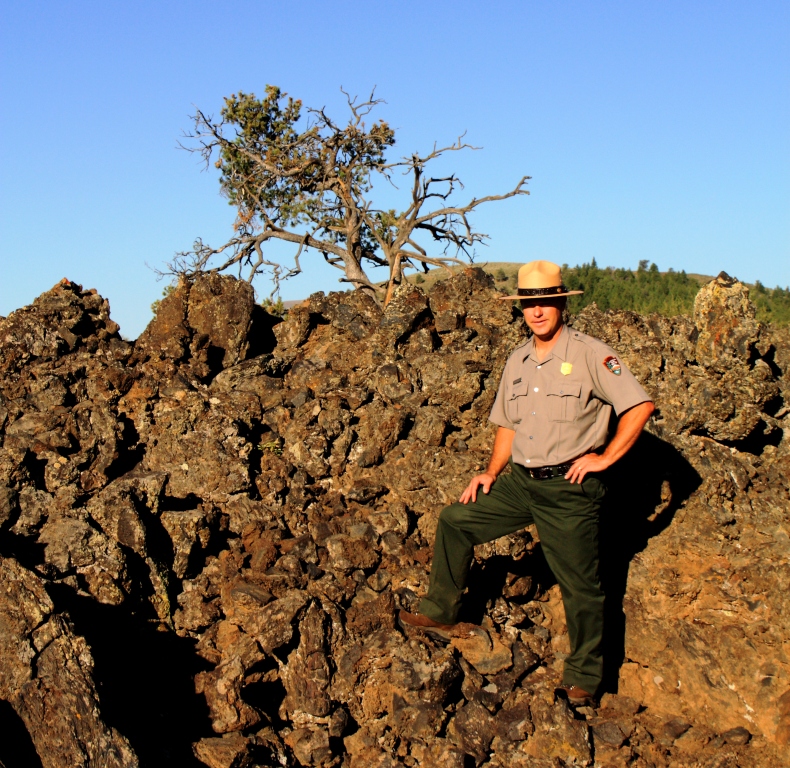 News Release Date:
October 25, 2012
Contact: Ted Stout, Chief of Interpretation and Education, 208-527-1330
Craters of the Moon National Monument has been an outdoor classroom to students for decades, perhaps most notably in 1969 when Apollo astronauts studied the peculiar lava formations before visiting the Moon. Today thousands of Idaho students continue that tradition of first-hand study each year on school field trips to the monument.
This summer the National Park Service took another step to enhance the effectiveness of these educational missions. Enter Lane Kirkland, Social Studies teacher for Carey High School and the monument's first Teacher-Ranger-Teacher (TRT).
The TRT program - utilized by national parks nationwide - is based on the simple premise that teachers and park rangers both provide educational opportunities, though working in different "classrooms" and with different tools. Lane has worked in formal education for over a decade, so it was a smooth transition to become an interpretive park ranger. His mission: help develop curriculum materials about Craters of the Moon that are inquiry-based and align with new Common Core State Standards.
School had no sooner let out in June when Lane began training with interpretive staff to learn the park's geology, wildlife, botany, and cultural history. He then donned the gray and green park uniform - complete with the classic flat hat - and provided guided tours and interpretive talks to visitors throughout the summer.
When not providing formal programs, Lane began assembling foundational materials to guide the development of future curriculum materials for the park. With the monument set to finalize its Education Plan this coming year, the goal is to provide formal and informal learning opportunities to students, both for traditional site-based field trips as well as for long-distance learning for students that may never visit the park.
If funding allows, the park also hopes to host more Teacher-Ranger-Teacher positions at Craters of the Moon in coming years, including educators from each of the four other Idaho counties bordering the monument: Butte, Lincoln, Minidoka, and Power.
Even with school back in session and his Carey High School football team on the gridiron, Lane's work as a ranger is not quite complete. Lane will don his ranger uniform once more - this time in his school - to highlight the "classroom" connection shared by schools and parks. A small step, but one that echoes the "unearthly" connection made by astronauts years ago between Idaho and our celestial companion.