Spring Wildflowers
Date:
June 14, 2011
Contact:
Visitor Center Staff
, 208-527-1335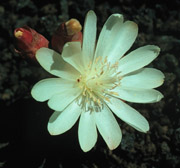 Recent rains should make this another banner year for the annual eruption of wildflowers at Craters of the Moon National Monument and Preserve. Peak bloom is approaching and should last through early July.
Flowers that bloom through cracks in the lava, including Gland Cinquefoil and Indian Paintbrush, are showing well. Flowers that bloom on cinder slopes, including Dwarf Monkeyflower and Dwarf Buckwheat, have not yet reached peak but should do so in the next few weeks. Although June brings the most impressive show of flowering plants, there are a wide variety of wildflowers that bloom throughout the summer. The varied habitats of the monument support more than 700 different types of plants.
Wildflower Watch
Updates including a list of annual blooming times for a variety of Monument flowers can be found at this link.
Last updated: February 28, 2015