On the Dark Side of the Moon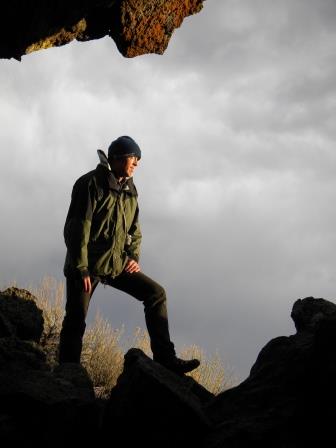 News Release Date:
June 11, 2013
Contact: Ted Stout, Chief of Interpretation, 208-527-1330
A Journey Towards Recovery

In the spring of 2000, Mike Medberry, a longtime advocate of conservation with American Lands, The Wilderness Society, and Idaho Conservation League, suffered a stroke in the remote wilderness of the Craters of the Moon in Idaho. He was rescued after laying for hours alone and contemplating death in one of the harshest yet most beautiful landscapes in the country.
Medberry was flown to a nearby hospital from the stroke about the same time that Interior Secretary Bruce Babbitt, on behalf of President Clinton, came to support three-quarters of a million acres as a unique national monument, a conservation effort in which Medberry himself had already been personally involved.
This story interweaves Medberry's own struggle to speak, walk, write, and think with the struggle to protect this brutal, lava-bound, but for him, gentle landscape. Medberry's recovery from this stroke and his struggle to protect Craters of the Moon is a story of renewal, restoration, accommodation, and, ultimately, of finding workable compromises to some of life's most difficult problems.
Meet the author as he shares some passages from his new book. Medberry will present a reading on Saturday, June 22 at 2:45 pm on the Visitor Center patio. He will also provide a longer presentation at 9:30 pm  in the campground amphitheater that evening. 
Mike Medberry has served as a senior environmentalist for several local and national conservation organizations and holds an MFA from the University of Washington. Over the past twenty years he has written nonfiction for Northern Lights Journal, High Country News, Black Canyon Quarterly, Hooked on the Outdoors, Stroke Connection and the e-magazine Writer's Workshop, as well as short fiction.
Last updated: February 28, 2015