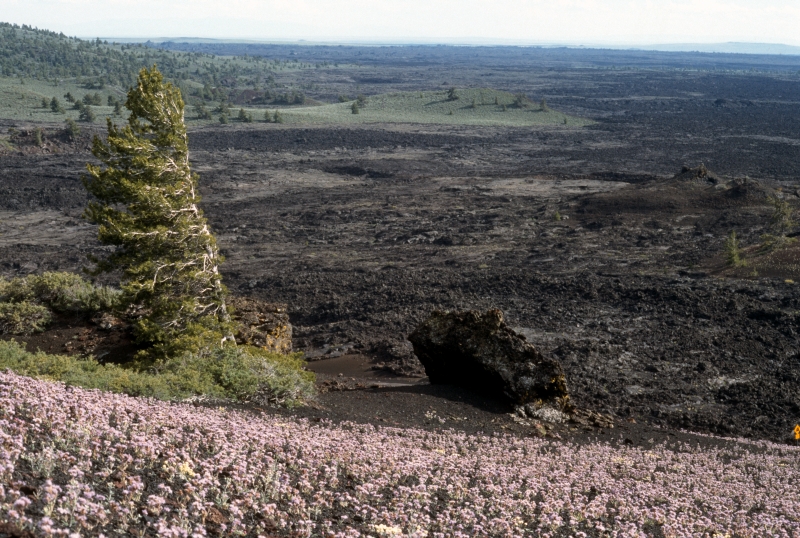 News Release Date:
May 29, 2013
Contact: Ted Stout, Chief of Interpretation, 208-527-1335
With mild temperatures and abundant wildflowers, June is a great time to visit the park. Be prepared with our free Wildflower app available for both Apple and Android devices. On your way to the park check out our 10 new roadside exhibits available at overlooks along US highway 20/26/93. Observe natural features in the park by utilizing our new Citizen Scientist booklet. Special events this summer include a reading by author Mike Medberry, our annual Star Party, a presentation on nature photography, daily guided walks as well as our special weekend hikes. Read on to find out about other special events offered throughout the month.
Ranger Guided Walks and Talks: Start June 7
Climb a volcano, explore a lava tube, or join us for a Junior Ranger activity or evening presentation in the campground. Look for a detailed schedule of these daily events at: https://www.nps.gov/crmo/planyourvisit/events.htm
Star Party: Friday, June 7 and Saturday, June 8;Starts at 9:30 pm
Join experts from the Idaho Falls Astronomical Society and experience the universe under our naturally dark skies. Enjoy a presentation about the night sky and Craters of the Moon's "unearthly" connections both nights in the campground amphitheater at 9:30 pm. Then head to the Caves Area parking lot for telescope viewing of the skies above. Call 208-527-1335 for more information.

Wildflower Walks:Saturday, June 8and June 15; 10 am – 1 pm
June is the peak of the wildflower season at Craters of the Moon. Join a ranger on this guided 3 mile walk that will cover a variety of habitats and introduce participants to a number of plant species. Pack a lunch to be eaten in the field, wear sturdy shoes, and bring water.Reservations are required and walks will be limited to 30 people. Call 208-527-1335 to make a reservation. Meet at the Tree Molds parking lot.
Nature Photography Presentation and Teacher's Workshop: Friday, June 14 (presentation), & Saturday-Sunday, June 15-16 (workshop)
Craters of the Moon is hosting two events to celebrate National Nature Photography Day. Join the park Education Specialist for a Teacher's Workshop on Nature Photography June 14-16. Anyone can attend the evening session on June 14th that provides an introduction to the philosophy, practices, and techniques of nature photography. Both events are free with college credit available through the College of Southern Idaho. Call 208-527-1331 to register for the workshop or for more information.
On the Dark Side of the Moon: Saturday, June 22 @ 2:45 pm (Visitor Center) & 9:30 pm (amphitheater)
In the spring of 2000, longtime conservation advocate Mike Medberry suffered a stroke in the remote wilderness of Craters of the Moon. He was rescued after laying for hours alone and contemplating death in one of the harshest yet most beautiful landscapes in the country. Medberry's recovery from this stroke and his struggle to protect the Craters of the Moon is a story of renewal, restoration, accommodation, and, ultimately, of finding workable compromises to some of life's most difficult problems. Meet the author as he shares some passages from his new book.
Full Moon Hike: Saturday, June 22nd; 7 pm – 10 pm
Explore this unearthly landscape under a full moon. Cooler temperatures make this moderate, 4-mile evening hike pleasant. Wear sturdy shoes and bring snacks, water, and a light jacket. Reservations are available by calling 208-527-1335. Meet at the Tree Molds Parking Lot.
Wilderness Hike: Saturday, June 29th; 9 am – 2 pm
Explore the National Park system's first wilderness area with a ranger-led hike to Echo Crater. This strenuous hike is seven miles long and will involve some off-trail hiking. Hiking boots, a hat, lunch, and plenty of water are required. Sunglasses, sunscreen, lip balm and a hiking stick are recommended. Reservations are available by calling 208-527-1335. Meet at the Tree Molds Parking Lot.