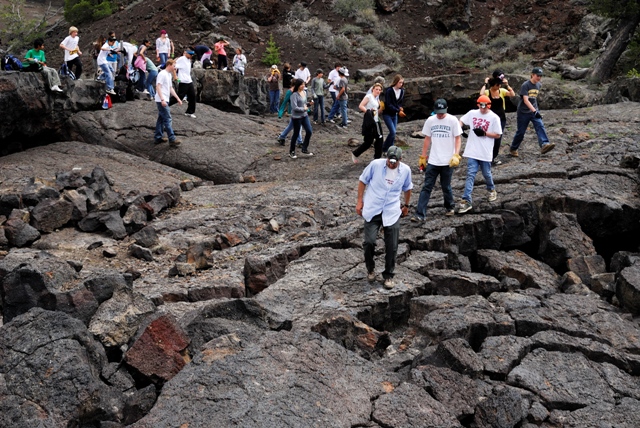 News Release Date:
September 12, 2013
Contact: Ted Stout, 208-527-1335
[Arco]- Teachers across Idaho, and around the world,have a new tool to help them engage their students in classroom place-based learning.
Today the National Park Service (NPS) launched a new online service for teachers that brings America's national parks, including Craters of the Moon National Monument and Preserve, into neighborhood classrooms. The new "Teachers" section of the National Park Service website at www.nps.gov/teachers provides a one-stop shop for curriculum-based lesson plans, traveling trunks, maps, activities, distance learning, and other resources. All of the materials draw from the spectacular natural landscapes and authentic places preserved in America's national parks.  
"The National Park Service has long welcomed area students to the park for field trips," saidDan Buckley, superintendent of Craters of the Moon National Monument and Preserve. "And now, through the new "Teachers" National Park Service website, all 401 national parks are throwing open their doors and inviting teachers and students to learn about literature using a lesson plan from Carl Sandburg Home National Historic Site or chat online with a ranger at the Grand Canyon National Park.

On the Craters of the Moon site educator's can explore 12 lesson plans and plan a field trip. Here you can also find information about upcoming Teacher's Workshops and other opportunities for professional development. 
These sites are searchable by location, keyword, and more than 125 subjects, from archeology, to biology, to Constitutional law. Teachers will, for the first time, be able to rate NPS-provided content. In addition to park-created content, the site also features educational materials created by NPS national programs like the National Register of Historic Places and its award-winningTeaching with Historic Places series of 147 lesson plans.
The website is just one part of the National Park Service's ongoing commitment to education. Every year, national parks offer more than 57,000 educational programs that serve nearly 3 million students in addition to 563,000 interpretive programs attended by 12.6 million visitors. The NPS is working with partners and educational institutions to expand programs and encourage the use of parks as places of learning. The NPS has partnered with the Department of Education to integrate national park resources into core curriculums. Each summer, teachers across the country are hired to work in parks to develop curriculum-based programs based on park resources through the Teacher-Ranger-Teacher program.
To learn more about the National Park Service's education programs, visit www.nps.gov/teachers.
NPS
About the National Park Service. More than 20,000 National Park Service employees care for America's 401 national parks and work with communities across the nation to help preserve nationally siginificant natural and cultural resources and create close-to-home recreational and educational opportunities. Learn more at www.nps.gov 
Visit us on Facebookwww.facebook.com/nationalparkservice,  Twitter www.twitter.com/natlparkservice, and YouTube www.youtube.com/nationalparkservice. 
About Craters of the Moon National Monument and Preserve.The employees of Craters of the Moon National Monument and Preserve protect a vast "weird and scenic landscape" with remarkable and diverse volcanic features, sagebrush steppe ecosystems, and wilderness which provides opportunities to explore, understand, and value the rugged and remote high desert landscape of the Great Rift Region.Learn more at www.nps.gov/crmo, Visit us on Facebookwww.facebook.com/CratersoftheMoonNationalMonument