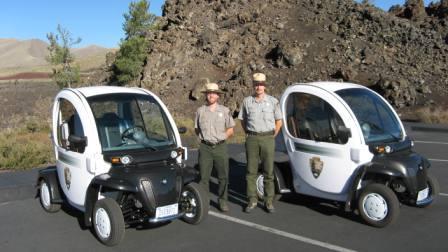 More than 200,000 people visit Craters of the Moon every year to explore the cool refuge of a lava tube cave or peer deep into a volcanic crater. Nationwide, the National Park System hosts over 285 million visitors per year. The 1916 NPS Organic Act mandates that parks be managed not only for the enjoyment of today's visitors, but "preserved for future generations" as well. To achieve both, parks must be managed in a way that minimizes our collective footprint on the land. In a word, parks must be sustainable.
As a
Climate Friendly Park
sustainability is a consideration in virtually all management actions taken today at Craters of the Moon.
Park staff utilize an
Environmental Management System
to monitor and measure the attainment of sustainability goals. Sustainable actions focus on three key areas: energy, waste, and water.
Energy
The recently renovated visitor center uses considerably less energy now than before renovation, despite nearly doubling in square footage. Better insulation and inexpensive steps such as temporary storm windows in winter help substantially. Ultra-efficient LED bulbs now light some park housing units, as well. And a new photovoltaic array installed in 2010 produces enough power to offset roughly 25% of the park's overall energy use, further reducing the park's reliance on fossil fuels. Further, the park recently obtained two all-electric vehicles for staff transport. When combined with electricity produced by the photovoltaic array, these vehicles are very close to zero emission.

The result: Craters of the Moon uses the least energy per square foot of any park in the region.
Click here for real-time information about Photovoltaic energy production at Craters of the Moon.